Women across Latin America marched in solidarity with the victims of gender-based violence on 19 October, named Black Wednesday (miercoles negro in Spanish) by the protestors.
The protest was first called in Argentina, after the fatal rape of a teenage girl in the town on Mar del Plata on 8 October. Lucia Perez, a 16 year old girl, was one of the 19 women who were murdered by men, in what is referred to as feminicide, in Argentina in the first half of the month. Three women were killed by their partners since Lucia Perez's death.
The Argentinian Supreme Court recorded 235 feminicides in 2015, approximately one every 36 hours. Around one in five of the victims are teenagers. According the Gender Equality Observatory for Latin America and the Caribbean, 1903 women were murdered because of their gender in fifteen Latin American countries and three Caribbean nations in 2014.
Women across in Latin America organised themselves under the protest movement #NotOneLess (#NiUnaMenos in Spanish) to demand an end to gender-based violence and justice for the victims. Massive demonstrations were organised in June 2015 in Argentina, Chile, and Uruguay and were repeated in the summer of 2016.
More than a year later, photos of solidarity protests organised in support of victims of gender violence on Black Wednesday in 17 Latin and Central American countries, show that the movement is as strong and as united across the continent.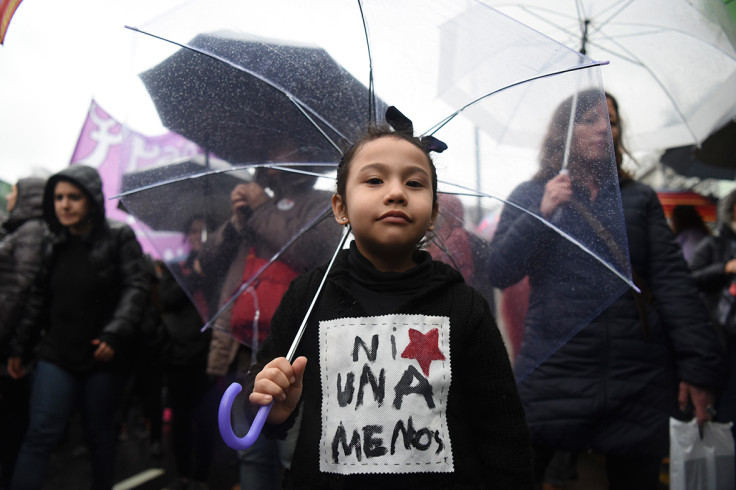 On social media, messages of solidarity to the demonstrators poured from across the world using the hashtags #VivasNosQueremos (we want to live), #MiercolesNegro, #NiUnaMenos and its various local translations.
In Argentina, protesters filled the centre of the capital Buenos Aires.
Men marched alongside women too to show their support to the cause. "I am almost naked, surrounded by the opposite gender... and I feel safe, not intimidated. I want the same for them".
In neighbouring Chile, demonstrations were held in different cities across the country. "We are the cry of those who do not have a voice".
In Peru women held a vigil in Lima.
The rain did not stop demonstrators in Uruguay.
Women took to the streets in Caracas, Venezuela's capital. "We are also joining the demonstration".
Women marched in La Paz, Bolivia. "It was not a crime of passion it was patriarchal violence".
A similar march took place in Paraguay. "Women against macho violence. It is the continental uprising against femicide"
"Ecuador [stands in] solidarity with the Argentinian women"
Women in Colombia joined in too.
"In Portuguese, #NiUnaMas translates to #NemUmaMenos. Brazil is also joining".
Central American countries also held solidarity events during the day and the night.
More protests are scheduled to take place across the world around the date of 25 November, the UN-observed international day for the elimination of violence against women.