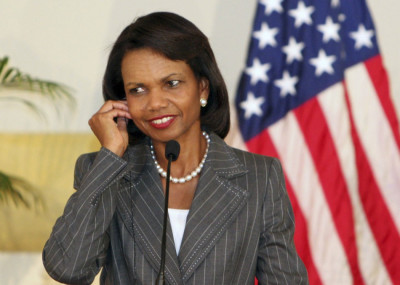 Despite often criticising and disregarding western leaders, Colonel Muammar Gaddafi apparently had a secret crush on the former Secretary of State under George Bush junior.
The colonel has never hidden his love of women, and was often seen surrounded by his beloved female bodyguards or in presence of his famous Ukrainian nurse, Oksana Balinskaya who promptly retuned to Ukraine after the conflict in Libya broke out.
Talking about the Libyan leader, his nurse Oksana, who called Gaddafi "papa", said of him: "We had no complaints," she said. "When [we] were in New York, for example, Papa gave a personal order to give us some money so we could run around the local boutiques."
It seems however he managed to hide his secret crush on Condoleezza Rice, which was only revealed after the rebels ransacked his compound and found a photo album entirely dedicated to the former U.S. national security adviser.
While reviewing some of Gaddafi's statements on the U.S. politician, the crush became more apparent, since the colonel proclaimed his admiration for his "darling black African woman".
However, Gaddafi's love for Rice is not new. He has loved her since at least 2007, in which he proclaimed her, in an interview, to be basically the bee's knees, and then some.
"I support my darling black African woman," he said. "I admire and am very proud of the way she leans back and gives orders to the Arab leaders ... Leezza, Leezza, Leezza. ... I love her very much. I admire her and I'm proud of her because she's a black woman of African origin," the colonel told al-Jazeera in an interview in 2007.
In 2008, it seems that Gaddafi managed to get closer to his crush after he arranged a late-night dinner, using the break of the Ramadan fast as an excuse for the tardive hour for the Tête à Tête.
"The strong scent of incense hung heavy in the air," wrote The Washington Post in September 2008. "His [Gaddafi's] face lit up when he saw Rice. ... Gaddafi simply placed his right hand over his chest, a traditional and respectful welcome."
Clearly mesmerised by Condoleezza Rice, it seems Gaddafi wanted to keep the photo album a private affair as he failed to put the pictures on his Facebook account and brag about his rendezvous with his "darling."