Colu, developer of the ColouredCoins protocol, has released Bankbox, an open source, blockchain-agnostic framework for digital currencies.
Bankbox will enable users to provide asset-verification credentials, fund a wallet, issue currencies, track the assets, manage distribution and using the API/SDK they can integrate to their internal systems and create a wallet for the currency, stated a blog post.
"The Bankbox allows a new banking model where the custodian handles consumer funds on an external, shared ledger while reducing custodial risk — requiring cryptographic signatures from customers to prevent misuse," wrote Mark Smargon, Colu co-founder and VP for blockchain.
"Its operations are transparent, with the possibility of being regulated directly on the blockchain by providing cryptographic proofs to the regulator. The Bankbox will provide access to open-source tools that are battle-tested and could dramatically reduce banking IT costs."
The Bankbox will consist of: Full CC node, API, SDK, Explorer, Issuance tool and an open source wallet. In the future the Bankbox will allow issuers to launch payment hubs that provide scalable payment infrastructure.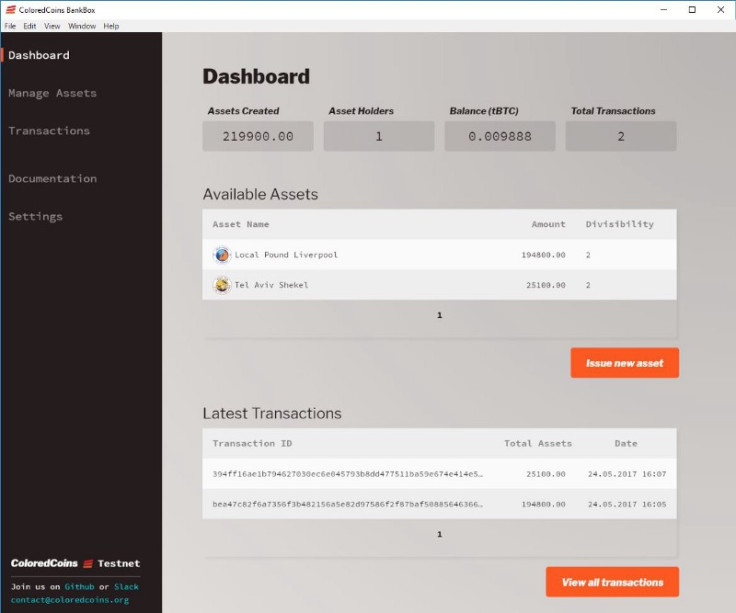 Making the project open source will broaden the circle of developers (which is already quite large, with circa 800 developers on Slack and a network of ambassadors around the world); Smargon also said the aim is to take a further step back in the management of this community and invite early stakeholders to take decisions as an equal partner.
Colu announced the first partnership and deployment of Bankbox will be with Bitt in Barbados. Bitt has been very active in its participation as a ColoredCoins member and has contributed development resources as part of its mission to provide a local banking infrastructure for the entire caribbean area. The Bankbox will be utilised by Bitt to issue the "Barbadian dollar" using ColoredCoins technology and in partnership of the Barbados central bank, said Smargon.
He added: "Our existing architecture could be easily adapted to UTXo based blockchains other than Bitcoin like Multichain and we have also joined as an associate developer community to the Hyperledger project  —  our goal is to promote interoperability with Hyperledger ecosystem.
"Scalability is another long term effort we pursue. We launched a Lightning hub demo that supports ColoredCoins and allows scalable off-chain ColoredCoins transactions. We are working on adding native support for ColoredCoins as part of the official Lightning protocol."