Comet's Collapse to Cost Unsecured Creditors £230m [VIDEO]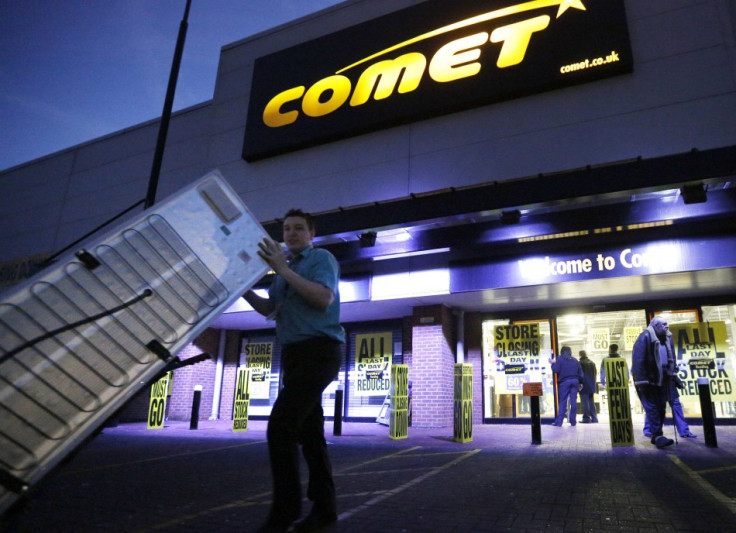 The closure of electrical retailer Comet's entire operation will result in a loss of millions of pounds for its unsecured creditors including landlords, suppliers, customers and the taxman, according to the joint administrators.
The administration process was unable to secure enough money to pay back the unsecured creditors, who are owed £232.9m ($377.4m, €286.7m), said administrator Deloitte. Secured creditors including the retailer's owners, the private equity group OpCapita and its co-investors will get £50m out £145m owed by the retailer.
"There will not be sufficient realisations from floating charge assets to fully repay the secured creditors. Accordingly, we do not expect any funds to be available to pay a dividend to the unsecured creditors of the company other than a very small distribution under the PP of less than 1 pence in the pound," Deloitte said.
The collapse of the retail chain will cost the government £49.4m in redundancy payments and tax revenues. The redundancy money, which will be paid by the government's Redundancy Payments Service to thousands of former Comet workers, totals £23.2m. HM Revenue & Customs (HMRC) is set to lose £26.2m in due taxes.
Comet went into administration in November, marking one of the biggest high street casualties in recent years.
The 236-store business was suffering from tightened credit terms imposed by its suppliers amid a weakness in the sector. Comet's losses in the year to April amounted £95m, as revenues slumped by £200m, Deloitte noted. In the subsequent five months, Comet lost a further £31m.
Despite announcing job closures and job cuts, the administrator was trying hard to secure a rescue bid for Comet and was in talks with a number of interested parties. However no agreement could be reached, and store sales continued to deteriorate.
On 14 December, Deloitte confirmed on the retailer's website that all remaining stores will closed, with the loss of 6,600 jobs. The last 49 Comet stores are set to close on 18 December.
© Copyright IBTimes 2023. All rights reserved.