Hobbit fans rejoice – the official poster for The Hobbit: The Battle of the Five Armies has finally been released at San Diego Comic Con and on Peter Jackson's Facebook page, and it looks quite intriguing.
The new poster features Bard the Bowman in a final showdown with the dragon Smaug against the backdrop of Lake-town.
The official Hobbit Facebook page also posted an update to all fans detailing director Peter Jackson's upcoming appearance on Saturday at Comic Con.
Together with other Hobbit cast members, he will be taking part in a special Warner Bros Pictures panel at 10am in Hall H which will likely include a preview of the new teaser trailer, and he will also sign copies of the new poster at the WB booth at 12:30pm.
Evangeline Lilly, who stars as Tauriel the elf in the second Hobbit film, The Hobbit: The Desolation of Smaug, is also attending Comic Con this weekend to promote the new film.
"I like to see the films at the premiere. And so usually by the time I've seen the film, I've already done massive rounds of press and answered every question under the sun about the movie that I haven't seen," Lilly told movie website Slash Film.
"I like the romance of actually seeing the film with a big audience who are excited about its release and hearing the laughter and the gasps and the clapping and I just, I like that movie experience."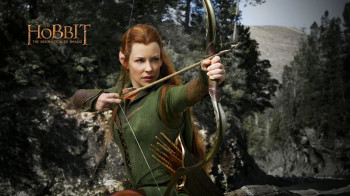 Lilly also gave a few hints about what will happen to Tauriel by the end of the third film – bearing in mind that Tauriel does not actually feature in JRR Tolkien's book The Hobbit, or anywhere else in the Middle Earth ethos.
"It would be hard to talk about it in any detail because I can't give anything away, but Tauriel's story ends in classic Tolkien fashion. And I think that Tolkien was a master of the greater life lessons and bitter life truths and he didn't shy away from anyone's storyline," said Lilly.
"I think that's what made him so particularly good. He really had whole and complete arcs for all of the characters that he took the time to introduce you to. And Tauriel is no exception."
Lilly does have a hint for fans though, which is to look at Tolkien's appendices and his work outside Middle Earth, specifically at books that he wrote for women, if you want to understand how Peter Jackson and his wife created Tauriel.
"If you look into, if you project or you're looking at Tauriel and you are looking for references, Tolkien references, you need to look in all of his other books to see how he wrote for women. And I think that Peter Jackson being an expert on Tolkien took all that into account," she explained.