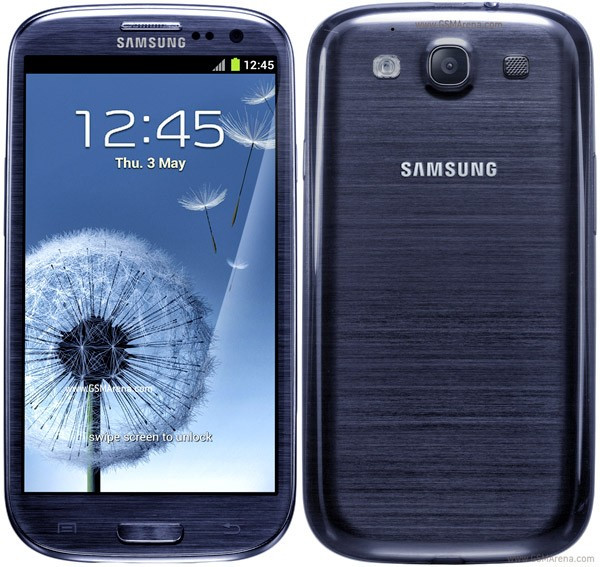 The Motorola Milestone 3 XT860, also known as Motorola XT860 4G (Canadian version), was announced in August last year and released in September. The XT860 was touted to be the thinnest QWERTY smartphone at the time of its release. Except for the difference in network support, both the regular and Canadian versions have many features in common. The regular version runs on Verizon Wireless network with 3G support, while the 4G version is supported on Bell Mobility's network carrier. The phone ships with a predominantly striking QWERTY-slider keypad and portrays identical looks of its predecessor - Motorola Milestone.
Samsung's Galaxy S3, on the other hand, has grown in popularity ever since its debut across the UK on 30 May, thanks to revolutionary software features. It stands out as the best Android smartphone in the market at present, accounting for more than 40 percent of sales for Android smartphones. It is expected to roll out across 290 carriers and 145 countries, setting the trend for forthcoming high-end smartphones.
Let's see how the two smartphones stack up against each other.
Dimensions and Weight: Motorola Milestone 3 XT860 sets the standard for QWERTY smartphones with a relatively slim form-factor. It measures 123.3 x 64.1 x 12.9 mm and weighs 184g.
Samsung's Galaxy S3, on the other hand, is sleeker with dimensions of 136.6 x 70.6 x 8.6 mm and also much lighter at 133g.
Display: The Galaxy S3 flaunts a monstrous 4.8in Super AMOLED display with a capacitive touchscreen running at 720p (720 x 1280 pixels) resolution and a pixel density of 306 pixels per inch (ppi). The S3 also adds second-generation damage resistant Corning Gorilla Glass protection for its display.
In comparison, the XT860 features a 4in TFT capacitive touchscreen display that is protected with damage resistant Corning Gorilla Glass. The display supports a native resolution of 540 x 960 pixels at 275ppi.
Processor: The S3 boasts a powerful quad-core 1.4 GHz Cortex-A9 processor based on the Exynos 4 quad chipset and a Mali-400MP GPU for graphics applications, which is suitable for high-performance computing like gaming and multi-tasking. The XT860 features a dual-core 1GHz Cortex-A9 processor coupled with PowerVR SGX540 GPU. The processor is based on the TIOMAP 4430 chipset with well-balanced power-saving features.
Memory and Storage: The Galaxy S3 ports 1GB of RAM and also supports three versions of internal storage - 16/32/64 GB. The Milestone XT860, on the other hand, has only 512MB of RAM with a single 16GB internal storage model. The S3 offers microSD expansion support up to 64GB while the XT860 supports only up to 32GB microSD cards. There is no bundled memory card shipped with either smartphone.
Operating System: The XT860 comes pre-installed with Android 2.3 (Gingerbread) onboard. In comparison, the Galaxy S3 ships with Android 4.0.4 (the latest version of Ice Cream Sandwich) factory-installed.
Camera: Both the S3 and the XT860 flaunt powerful eight megapixel rear cameras with a plethora of common features such as auto-focus, LED flash, face detection, geo-tagging and touch focus. Besides, the two smartphones also support 1080p video recording capability at 30fps (frames per second). The S3 features a 1.9 megapixel front-facing camera for video calls, while the Motorola phone ships with a secondary VGA camera. The S3 camera also supports special functions such as simultaneous HD video and image recording besides image stabilisation.
Connectivity: The Galaxy S3 offers Wi-Fi 802.11 a/b/g/n, DLNA, Wi-Fi Direct, Wi-Fi hotspot, Bluetooth v4.0 with A2DP, EDR and NFC (Near Field Communication). Its 4G connectivity speeds are HSDPA, 21Mbps and HSUPA, 5.76Mbps. The Milestone 3 XT860 also adds similar connectivity options like Wi-Fi 802.11 a/b/g/n, DLNA, Wi-Fi hotspot, Bluetooth v2.1 with A2DP, EDR. The only exception is the lack of NFC. It offers download speeds of 14.4Mbps on HSDPA and upload speeds of 5.76Mbps on HSUPA network bands.
Battery: The Galaxy S3 is powered by a massive 2100mAh Li-Ion battery that is rated to deliver up to 590 hours of standby time on 2G and up to 790 hours on 3G networks. The battery also delivers an impressive talk time of approximately 22 hours on 2G and 12 hours on 3G networks. The Milestone XT860, in comparison, features a weaker Li-Ion 1540 mAh battery rated to provide up to 240 hours of standby time and about 9 hours of talk time.