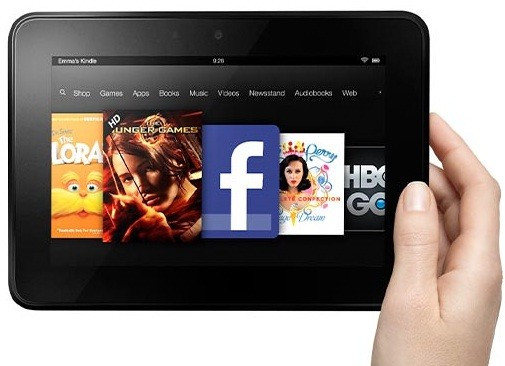 Amazon has launched new 8.9-inch and 7-inch Kindle Fire HD tablets, as well as an upgraded version of its original Kindle Fire tablet. The new tablets will compete with Google's Nexus 7, and – possibly – with Apple's rumoured 7-inch iPad 'mini', which may launch as early as this month.
The two new Amazon tablets come with a range of new features. These include:
• X-Ray for Books, Movies and Textbooks, which allows the user to search the internet for connections and content relevant to what is on screen.
• Immersion Reading, which can synchronise the written word with audiobooks provided by Audible.com (an Amazon company).
• Whispersync for games, films and books, which allows users pick up on another device where they left off.
In addition, the Kindle Fire HD tablets feature HD displays with IPS technology, dual-band and dual-antenna Wi-Fi with MIMO technology.
The upgrade to the existing 7-inch tablet includes a faster processor, improved memory and longer battery life. The upgraded Kindle Fire and the 7-inch Fire HD will launch in the UK, but the 8.9-inch Fire HD will not. The Kindle Fire costs £129 and is available for pre-order now, shipping on 25 October. The 7-inch Kindle Fire HD will cost £159 for the 16GB version with pre-orders open now and devices, again, shipping from 25 October.
In the United States, Amazon also launched a new version of its Kindle e-reader. The Kindle Paperwhite, costing from $119 (£75), has improved contrast and a whiter screen than the current Kindle, and features a backlit screen to enable night-time reading. No UK launch is yet planned.
While we in the UK wait, check out how the new 7-inch Fire HD does against the Google Nexus 7...
Display
Google's Nexus features a 7-inch LED-backlit In-Plane Switching (IPS) LCD capacitive touchscreen covered by scratch-resistant Corning Gorilla Glass. The resolution is of 800 x 1280 pixels, with a pixel density of 216 pixels per inch (ppi).
The 7-inch Kindle Fire HD also has an IPS LCD display, with a screen resolution and pixel density similar to that of the Nexus 7. In fact, these two have higher pixel densities than most other rival 7in tablets and the ASUS manufactured Nexus actually beat the new iPad, for display, in tests by AnandTech.
In terms of differences between the Nexus and the new Fire, Amazon claims the HD display features an Advanced True Wide polarising filter and custom-laminated touch sensors, which reduce glare by 25 percent, allowing uniform colour and contrast from any viewing angle.
Dimensions
The Nexus 7 measures 198.5 x 120 x 10.45mm and weighs 340g. The 7-inch Kindle Fire HD measures 193 x 137 x 10 mm and at approximately 394g is noticeably heavier.
Operating System
Google's Android 4.1 (Jelly Bean) software, announced with the launch of the Nexus 7. The new Kindle Fire HD, however, will run the older software - Android 4.0 (Ice Cream Sandwich).
Processor
The Nexus 7 is powered by an Nvidia Tegra 3 quad-core Cortex-A9 processor with a ULP GeForce graphics unit. The CPU runs with a clock speed of 1.3GHz. The Kindle Fire HD, in contrast, is powered by a Texas Instrument (TI) OMAP 4460 dual-core processor clocked at 1.2GHz. Both tablets pack 1GB of RAM.
Camera
The Google Nexus 7 sports a 1.2 megapixel front-facing camera for video calls and can capture video in 720p. The Kindle Fire HD is also equipped with a front-facing HD camera but with custom Skype apps for video calls. Neither tablet has a rear-facing camera, which could be a problem because rivals, like Samsung, BlackBerry and Apple, do offer one.
Storage
The Nexus 7 has two options - 8GB and 16GB. The Kindle Fire HD will also come in two options but at the higher end - 16GB and 32GB. Neither tablet supports microSD cards.
Connectivity
The Nexus 7 offers Wi-Fi 802.11 b/g/n and Bluetooth. The Kindle Fire HD will offer dual-band and dual-antenna Wi-Fi (802.11 a/b/g/n) in addition to Bluetooth.
More importantly, Amazon's tablet will feature MIMO (Multiple In/Multiple Out - a technology designed to combat problems with line of sight for wireless signals) which is supposed to offer up to 40 percent faster speeds. Amazon also claims the Kindle Fire HD tablets are the first to offer all three wireless technologies - dual-band, dual-antennas and MIMO. On Google's side , the Nexus 7 offers GPS and NFC, which Amazon's smaller versions lack.
An earlier IBTimes UK report suggested ASUS may be planning a 3G version of the Nexus 7 for October, so that may be worth keeping an eye on.
Battery
The Nexus 7 runs on a Li-ion 4325mAh battery which provides up to nine hours of HD video playback and 10 hours of browsing and e-reading. Amazon failed to specify their device's battery's capabilities but it should be safe to assume a similar standard.
Price
The Nexus 7's 16GB model costs £199.99 and the 8GB model will set you back £159. The Kindle Fire HD tablets score heavily in this count; while the prices remain the same, your storage capacity doubles. This means the 16GB models costs £159 and for the same £199 you'd spend on a 16GB Nexus 7, you can get a 32GB Kindle Fire HD.