Live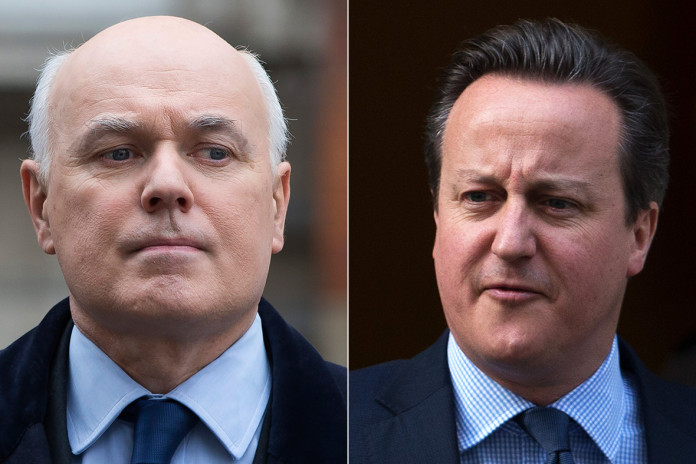 David Cameron is facing the first leadership crisis of this parliament after George Osborne's Budget caused anger among Conservative backbenchers. The discontent over cuts to disability benefits even led to the resignation of Iain Duncan Smith as Work and Pensions Secretary.
The Euosceptic was quickly replaced by former Welsh Secretary Stephen Crabb at the Department for Work and Pensions, but Duncan Smith wreaked havoc on the Chancellor and Cameron when he appeared on TV over the weekend.
The Tory big beast claimed the government had lost its way on welfare reform and argued his decision to leave the cabinet had nothing to do with the EU referendum in June. But Cameron is expected to directly hit back at Duncan Smith in a statement to MPs on 21 March.
The prime minister will reportedly tell the House of Commons that compassionate Conservativism is alive and well in his administration.
However, the defence may fall on deaf ears as some Tories are apparently plotting to vote against the most controversial elements of the Budget on 22 March.
The government have already reportedly revealed that they will not oppose a Labour amendment to the Budget which would see MPs backing scrapping the VAT levy on sanitary products, otherwise known as the 'tampon tax'. Meanwhile, Labour have urged Osborne to quit over his Budget.
The Speak of the House of Commons John Bercow has granted Jeremy Corbyn's party an urgent question at 3.30pm (GMT) on Osborne's decision to drop reforms to Personal Independence Payments (PIP) for disabled people. But it is unlikely that chancellor will face John McDonnell in the chamber.
You can watch Cameron's statement to MPs straight afterwards on Sky News, BBC Parliament and Parliament TV. Also make sure to follow @IBTUKPolitics for live updates and commentary.
More from IBTimes UK
Iain Duncan Smith biography: The 'quiet man' giving David Cameron a loud headache
Adele bans herself from attending Rihanna Anti world tour over fear of getting stoned
Bangladesh bank heist: Cybersecurity investigator abducted during probe into $81m theft
Stan Lee talks about his most and least favourite cameos in Marvel films