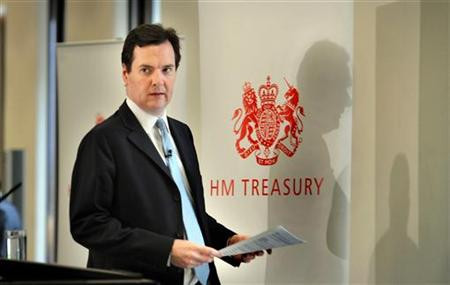 Some of Britain's top business leaders have called on Chancellor George Osborne to "press ahead" with plans to cut the deficit and has said that the private sector will be "more than capable" of creating jobs in the wake of job cuts in the public sector.
Osborne is due to give detailed proposals for spending cuts on Wednesday in the Comprehensive Spending Review.
In a letter to the Daily Telegraph, 35 business chiefs warned Osborne not to water down the cuts nor spread them over more than one parliament.
Failure to act quickly and decisively, the letter argues, will mean higher spending on interest payments and £100 billion in additional national debt by the end of the parliament, leading to deeper cuts or higher tax rises later on.
In addition Britain could see a rise in interest rates should markets "lose faith in Britain" because of failure to tackle the debt crisis.
The letter claimed that there is "no reason" to believe that proposed cuts will "undermine the recovery" and added that the private sector was "more than capable" of creating new jobs for those lost in the private sector and that doing so would "improve economic performance" as people perform "more productive activities".
The letter was signed by, among others, the CEOs of Kingfisher, Mothercare, BT, Diageo and Next, the Chairmen of ASDA, Britvic, Carphone Warehouse, Whitbread and Marks & Spencer and the Managing Director of Microsoft UK.