Ford Motor Company has unveiled plans to combine drones and autonomous vehicles to improve the speed and efficiency of transport deliveries as part of its "City of Tomorrow" scheme - the company's futuristic vision of transportation in urban areas imagined by Ford's City Solutions team.
The concept, dubbed "Autolivery", would see an end-to-end delivery service for everything from online shopping orders, a household's weekly groceries and also more urgent goods, such as medical supplies, that employs bespoke self-driving vehicles for the larger part of the journey, before an unmanned aerial vehicle (UAV) carries the order to the customer's doorstep.
The use of drones enables the service to reach areas otherwise inaccessible by automated means, such as flats in tower blocks, with limited parking facilities, or in particularly busy areas where traffic congestion rates are notoriously high.
The announcement came at Mobile World Congress 2017 where Ford showcased the concept in action using HTC Vive virtual reality headsets.
The idea of pairing autonomous vehicles with drones stemmed from a company-wide initiative asking Ford employees from around the globe to come up with solutions to "Last Mile" problems - an industry term used to describe challenges which arise from delivering goods to congested cities.
Ford also showcased two of its "City of Tomorrow" projects first revealed in 2016: a hoverboard-like robotic platform called CarrE, and a folding electric tricycle dubbed Tri-City.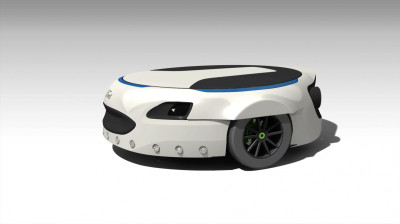 Drone deliveries of tomorrow
Ford's concept shares some similarity with drone-van delivery services being trialled by other major transportation companies. UPS unveiled a manned drone-dispensing vehicle in the US on 23 February, which the delivery firm hopes will improve efficiency in rural areas.
Online retailer Amazon also made its first commercial delivery using a drone in the UK in December 2016. The Amazon Prime Air service has been designed to cut the time between the order and eventual package arrival to under 30 minutes upon its final rollout.
As for Ford, "Autolivery" is a smaller part of its wider "City of Tomorrow" vision, which intends to improve the transportation networks - for both goods and people - in select cities from around the world. The ambitious plan includes Chariot, a crowd-sourced shuttle service in San Francisco, as well as the CarrE and TriCiti concepts.
"Ford has at its heart a culture of disruption and innovation designed to come up with solutions that put people first, to save them time, money and aggravation, and also to make our cities easier to navigate and better to live in," said Ford's vice president of Research and Advanced Engineering, Ken Washington.
"While the scene shown [at Mobile World Congress] is not yet possible, 'Autolivery' suggests how our ongoing mobility research could enrich our lives in a more sustainable 'City of Tomorrow'."