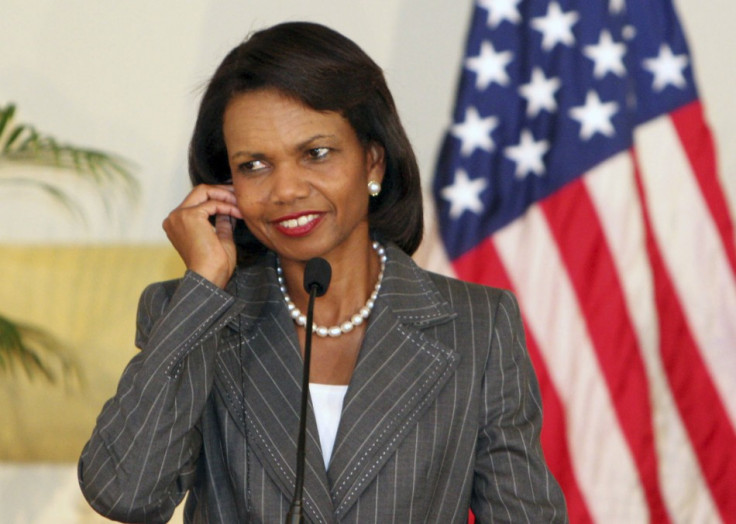 Former U.S. Secretary of State Condoleezza Rice has spoken of her regret at going shopping in New York and watching the Broadway musical "Spamalot" as Hurricane Katrina flooded New Orleans in 2005.
In her new memoir, "No Higher Honor: A Memoir of My Years in Washington," Rice, 56, describes "kicking herself" for taking a holiday in August 2005 as the disaster struck, which killed more than 1,800 people.
As the most senior black member of the Bush administration, Rice was forced to appear in New Orleans to fight the claims that the White House's slow response to the disaster was racially motivated.
Her new book also reveals that she "didn't think much about the dire warnings" and did little to check up on the hurricane except find out whether her department's offices on the Gulf of Mexico were secure.
After checking into the Palace Hotel, Rice wrote how after she saw the news reports that Katrina had struck, she called then-Secretary of Homeland Security Mike Chertoff asking if there was anything she could do to help and was told "he'd call if he needed me."
"I hung up, got dressed, and went to see Spamalot," the musical based on "Monty Python and the Holy Grail." "The next morning, I went shopping at the Ferragamo shoe store," she writes in an extract of her new book, which has been published in Newsweek magazine.
When the true extent of the damage caused by Katrina became clear, Rice said she called Bush to say she was returning to Washington.
"The airwaves were filled with devastating pictures from New Orleans. And the faces of most of the people in distress were black. I knew right away that I should never have left Washington."
Shortly after this, one political Web site ran the story of Rice on vacation during Katrina with the headline: "Eyewitness: Sec of State Condi Rice laughs it up at Spamalot while Gulf Coast lays in tatters."
Rice said she "sat there kicking myself for having been so tone-deaf. I wasn't just the secretary of state with responsibility for foreign affairs; I was the highest-ranking black in the administration and a key adviser to the president. What had I been thinking?"
"In retrospect, the hurricane's aftermath was the first in a spiral of negative events that would almost engulf the Bush presidency," she adds.
Her full memoirs are due to be published by Crown Books Nov. 1.