Congolese authorities have made a surprising U-turn after they eventually said they would carry out an investigation into video footage that appears to show elements of the armed forces of the Democratic Republic of Congo (DRC) "summarily executing civilians, including women and children."
The seven-minute footage, which was circulated on social media by Congolese human rights activists last week, appears to show men dressed in army uniform opening fire on a group of unarmed civilians, killing at least eight of them, including women and children.
The government, which until last weekend described the non-authenticated footage content as "fake" and a "gross montage" and refused to probe the suspected extra-judicial executions, yesterday (22 February) announced it would conduct an investigation into the actions of its armed forces.
According to experts, soldiers involved in the killings may be stationed in Kasaï central and Kasaï oriental provinces, where the army has been targeting fighters from the Kamwina Nsapu militia group, which vows to rid Kasaï-Central of all state security forces, accusing them of abusing the local population.
A government spokesman said that a commission of inquiry, composed of senior military magistrates, would be dispatched to the Kasaï to "clarify" the grave rights violations revealed by the seven-minute footage, as well as two new videos, circulating on social networks in recent days.
The first one shows children bodies on the ground in the middle of suspected soldiers and policemen in an operation in Kasaï Central. Several of the children are wearing Kamwina Nsapu's emblematic headbands.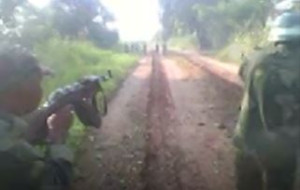 The second footage appears to have been filmed during the interrogation of a little girl, who admits to being part of a Kamwina Nsapu group with her father. The girl appears to be severely wounded and nearing death as she gets beaten when she fails to answer her interrogators adequately.
Spokesman Lambert Mende, urged for witnesses to come forward. "Anyone in Mbuji Mayi or in Kananga who has witnessed, or is a victim (of the violations shown) in the footage is called upon to report them to the senior auditors near the military superior courts in Kananga and Mbuji Mayi to assist in establishing the truth," Mende said, according to RFI.
Following the leak, Western governments including the United States and France, the European Union, United Nations officials and Human Rights Watch (HRW) representatives urged the Congolese authorities to open an investigation into the alleged extrajudicial killings.
The Office of the United Nations High Commissioner for Human Rights denounced "massive violations of human rights" committed against people targeted by soldiers for their alleged affiliation to a local militia".