Congolese authorities have questioned the authenticity of video footage that appears to show elements of the armed forces of the Democratic Republic of Congo (DRC) "summarily executing civilians, including women and children."
The seven-minute footage, which was provided to AFP news agency and circulated on social media by Congolese human rights activists last week, appears to show men dressed in the Congolese army (FARDC) uniform opening fire on a group of unarmed civilians, killing at least eight of them, including women. Reuters news agency reported the civilians may have been members of the Kamwina Nsapu militia.
Following the leak, Western governments including the United States and France, United Nations officials and Human Rights Watch (HRW) representatives urged the Congolese authorities to open an investigation into the alleged extrajudicial killing in the southern Kasaï-Central province. The Congolese government has been under pressure to act after months of violence in the south.
Responding to the calls for investigation, government spokesman Lambert Mende, who earlier alleged the footage was a "ridiculous montage" put together by members of the Congolese opposition, said it was up to the accusers – those who circulated the video – to prove their allegations.
In a statement, in which Mende more generally called on the DRC's partners to stop "promoting condescending and intentionally malicious attitudes", the government quoted an expert, identified only as M.K.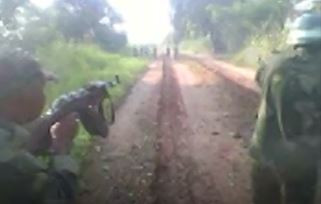 According to Mende, the government expert identified "oddities", evidencing the thesis of a montage fabricated to discredit the FARDC. Firstly, M.K questioned why the soldiers were moving in the open, given that the alleged Kamwina Nsapu fighters – branded as "terrorists" by the authorities – were reportedly armed.
Secondly, the expert challenged the fact the word FARDC is repeated too often, while also noting a synchronisation issue with both sound and image.
HRW representatives said the video, if authenticated, could be used as evidence of war crimes committed by the FARDC army, which has in the past been accused of serious crimes.
The government's statement comes as at least two additional videos emerged on social media. The videos have not been independently verified.
The first one, which also appears to have been filmed on a mobile phone, shows children bodies on the ground in the middle of suspected soldiers and policemen in an operation in Kasai Central. Several of the children are wearing Kamwina Nsapu's emblematic headbands. According to Congolese child welfare specialists, quoted by RFI, just over 50% of Kamwina Nsapu militiamen are minors "mostly under 14 and in most cases unnamed", or lightly armed.
The second footage appears to have been filmed during the interrogation of a little girl, who admits to being part of a Kamwina Nsapu group with her father. The girl appears to be severely wounded and nearing death as she gets beaten when she fails to answer her interrogators adequately.
Quoting witnesses, RFI reported the little girl may have died on 27 January following an attack in Kananga.