One week after opposition parties and the government agreed a deal that would allow President Joseph Kabila to stay in power until 2017, all eyes are now on national dialogue talks brokered by the Democratic Republic of Congo (DRC)'s powerful Catholic church.
The Conférence Episcopale Nationale du Congo (CENCO) summit is due to begin on Thursday (29 December) and is aimed at stemming the violence that followed Kabila's refusal to stand down despite the expiry of his two-term limit as leader of the resource- rich African nation.
Kabila and opposition parties agreed in principle to a deal before Christmas, but will now discuss holding elections next year and setting up a transitional government to last until his departure at the end of 2017.
Ahead of the talks, IBTimes UK looks at five potential scenarios for the DRC.
The dialogue drags on, sanctions have little impact and Kabila remains in power as protests die down and elections are delayed until 2018
The limited international spotlight on the situation in DRC may further offset political instability, as it becomes clear that US and EU sanctions on Kabila's top officials have had little impact. Kabila could capitalise on a change in foreign policy under Donald Trump, who is expected to cease US engagement in Congo while effectively empowering Africa's strongmen.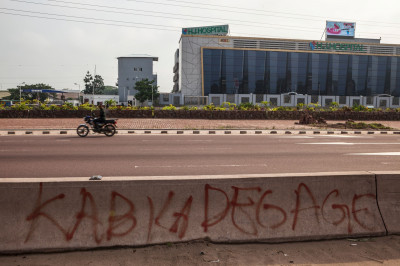 "Kabila is now over the big hurdles, and the principle whether or not he remains in office beyond the 19 December has gone," Jordan Anderson, a leading Great Lakes analyst at the London-based think tank IHS, told IBTimes UK.
In spite of pledges by pro-democracy groups to carry on demonstrating, mass protest will likely be short-lived. In combination with the violence and civilian deaths, political heavyweights Moise Katumbi and Etienne Tshisekedi are calling for "peaceful resistance", not demonstrations – and the Catholic Church is not supporting protests either.
The Church-led negotiations are now focused on how long it is until the next election – and how long Kabila stays in office, rather than whether or not he does.
"They (Kabila's side) are already laying the groundwork for a reason why, in 2018, if the constitution hasn't been changed, elections will be delayed further," Anderson added.
Citing lack of funding and delays in voter registration, the electoral commission postponed the polls. Earlier this month, the head of the commission said the budget to hold the elections would be $1.8bn (£1.47bn) – up 60% and two-fifths of the new government's budget – leading commentators to suggest it could be an indicator that 2018 is the earliest possible date for elections, should Kabila continue in office.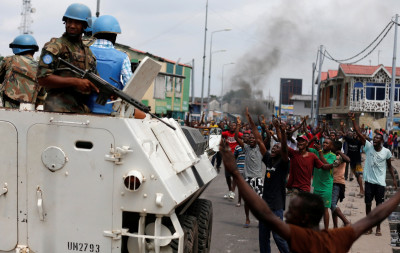 Elections are delayed past 2018 and Kabila changes the constitution, rendering the current one an empty shell
It is very likely that Kabila will seek to change the constitution by arguing that delays to the election mean the current one is no longer fit for purpose, and that it did not foresee the current situation.
Another possibility is that Kabila may use Article 78 of the constitution which stipulates that the president appoints the prime minister from the ranks of the parliamentary majority after consultation of the latter. It is constitutionally unclear how the new prime minister – and opposition member – Samy Badibanga's position works.
"That may be another fact that gets trotted out: that the transitional government is not actually constitutional so Kabila could present the argument that the constitution needs to be changed to enable this to be constitutional. This could quietly allow him to push through changes to term limits," Anderson said.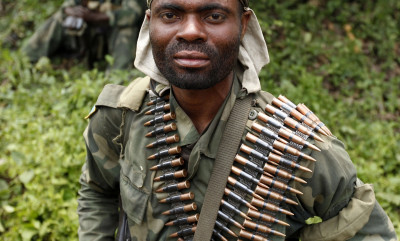 Kabila refuses to step down and faces a mutiny by military/police, who are unpaid and frustrated as national budget decreases as economic growth slows
Since 2015, the Great Lakes region has witnessed DRC's neighbour Burundi slowly slide into violence following a military coup against President Pierre Nkurunziza who was running for a controversial third term, seen by many as unconstitutional. In May 2015, disgruntled and politically engaged army officers and officials staged a coup d'etat in the capital, Bujumbura, before dismissing Nkurunziza – although that coup was ultimately crushed.
In DRC, the risk of forces turning against Kabila in a Burundi-style scenario peaked on 19 and 20 September when the poorly paid army was deployed in the streets during protests. "This deployment was a test of the army's happiness, and how far they were willing to go for Kabila to suppress large non-violent protests," Anderson said.
The risk of mutiny or a coup significantly decreased when Kabila passed his term deadline. It would also be unclear who a coup attempt would be in favour of, as the DRC does not have a particular loyalty for the opposition – unlike Burundi, where it spilt along political and ethnic lines.
"The huge opposition to Kabila in Kinshasa is largely unarmed opposition, whereas the armed opposition is largely based in the east of the country – with a few exceptions – which means they don't have the ability to shape power in Kinshasa itself. Unlike in Burundi, where the opposition against the Nkurunziza was concentrated in Bujumbura," Anderson explained.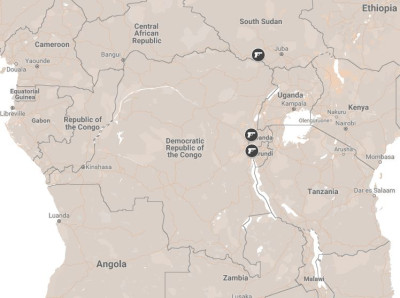 In a return to the past, instability overflows and affects the region, with dozens of countries meddling and more armed groups passing through porous borders
Regarding contagion, it is important to look at the position of the other regional countries. Unlike during the Second Congo War, during which nine countries were fighting each other on Congolese soil, neighbours Rwanda and Uganda are unlikely to get involved internally in the DRC at this point and support an insurgency against Kabila.
In early August, Kabila travelled to both Rwanda and Uganda to meet Presidents Paul Kagame and Yoweri Museveni, where he is believed to have told them of his plans for the second half of 2016, and what his stay in power would mean for their countries' relationships.
The DRC and Rwanda's relationship is mainly based on the DRC's ongoing operation against the FDLR rebels – formed by Rwandan Hutus linked to the 1994 Rwandan genocide. Rwanda is appreciative of the Congolese forces' capture and handover of FDLR commanders and fighters in North and South Kivu.
In Uganda, Museveni is seen as being solely focused on his own country, having himself been re-elected and having plans to develop oil in the northwest of the country on the border with the DRC. "So Museveni, who has a certain amount of security cooperation with the DRC, doesn't want to see instability in the region," Anderson said.
A larger population of South Sudanese in DRC could lay the grounds for a new refugee community-based militant group after fighters loyal to their ousted vice-president, Riek Machar, crossed into DRC in August following a resurgence of violence in South Sudan.
"This a fear we have seen displayed by the population in North Kivu – that the South Sudanese refugees will form a militant group along the lines that the refugee Rwandan Hutus did with the FDLR," Anderson explained.
The DRC government is currently trying to split South Sudanese refugees into two groups – most of the refugees are concentrated in refugee camps in Ituri province close to the border with South Sudan. A second group – several hundred militants loyal to Machar – are held in Goma, North Kivu.
The few hundred militants, who do not appear to have any support among the community, are not a threat, but that could change if they form their own self-defence group and start retaliatory attacks together with those in the camps. This, though, would not pose a threat to the Kinshasa government.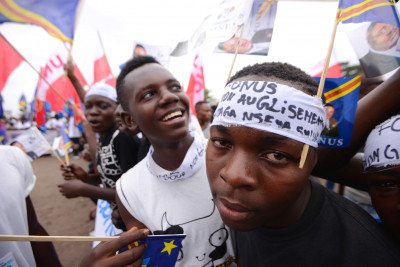 Kabila signs a political accord with the opposition, agreeing to reinforce the principle of a two-term limit and standing down as the transitional government led by Samy Badibanga stays in place, paving the way for 2017 elections
The most unlikely scenario now that the 19 December deadline is receding into history. Kabila's choice of prime minister, who is not a strong political figure, suggests he has no intention of stepping down. Badibanga is not seen as someone who would last long as prime minister, or have the ability to keep the government together and, by extension, help protect Kabila's interests were he to leave.
In the event that Kabila steps down, Anderson expects party leader Vital Kamerhe to get a "significant role" in the transitional government, while dropping "trumped-up" charges against opposition heavyweight Katumbi would also be a step towards reconciliation and transition.
Were Katumbi to be given a position in the government, "mentor" Tshisekedi would also have to be involved, due to his popularity.
"The government would not have a huge amount of legitimacy in its own right, but leaders would call for the elections which would have to be organised in the latter half of 2017, for logistical reasons," Anderson explained.
This is likely to lead to a period of instability next year, with a risk of violence and civilian deaths, since many politicians' support works along ethnic lines.
This will not be an indication of a general rise against the government, but low-level violence by these armed groups may continue in the Kivus and eastern parts of the country both before and after the elections.
"Around election time, people tend to get very worried that their candidate will lose out against another ethnic group's candidate and take something away from them. As a consequence, militias form in communities and groups tend to receive a great amount of support from those populations, meaning more people are willing to join them, because people are afraid.
"They look at someone who can protect them, whether their candidate wins or loses, and look at someone who can ensure that their candidate wins by legal and illegal means," Anderson added.