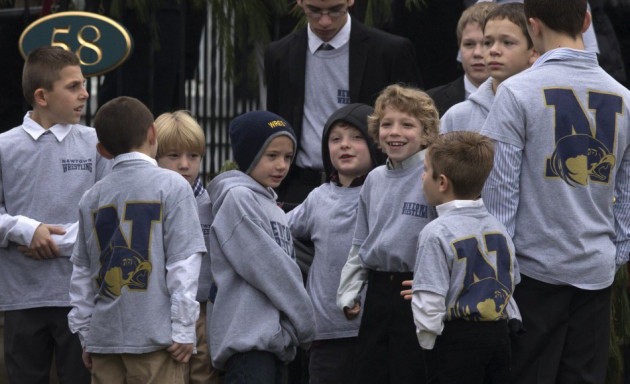 Funerals for the victims of the recent Connecticut school massacre have begun as two boys were laid to rest in Newtown.
Six-year olds Noah Pozner and Jack Pinto were among the 20 children killed in the shooting at the Sandy Hook Elementary School in Newtown.
Jack, who has been described as an "incredibly loving and vivacious young boy" by his parents, was buried in his favourite football jersey.
"I used to do everything with him. We liked to wrestle. We played Wii. We just played all the time. I can't believe I'm never going to see him again," eight-year old Nolan Krieger, who was present at the funeral, told the New York Times.
Noah, "an impish, larger-than-life little boy" was laid to rest, watched by his twin sister who was also present in the school at the time of the tragedy but escaped unhurt.
"Everything he did conveyed action and energy through love. He was the light of our family, a little soul devoid of spite," wrote Jack's parents in his obituary in the Newtown Bee daily.
The funerals of the other victims are expected to take place throughout the week, and many people in the town have decided not to celebrate Christmas given the recent tragedy.
Gun Control Debate
The killings have sparked off a debate on gun control, with lawmakers who once lobbied for gun owners' rights beginning to rethink the issue.
"I don't know anyone in the sporting or hunting arena that goes out with an assault rifle. It's common sense. It's time to move beyond rhetoric. We need to sit down and have a common sense discussion and move in a reasonable way," pro-gun West Virginia Senator Joe Manchin told MSNBC.
"Never before have we seen our babies slaughtered. This never happened in America, that I can recall. This has changed where we go from here," added the Democrat senator.
White House spokesperson Jay Carney also hinted that stricter gun control legislation could be part of a wider measure to combat gun-related violence in the US.
"It's a complex problem that will require a complex solution. No single piece of legislation, no single action will fully address the problem," said Carney.
Earlier President Barack Obama, speaking at an inter-faith vigil for the victims, had insisted that America should "change" in order to protect its children.