Connecticut School Shooting Reopens Gun Control Issue
Hundreds of people gather outside White House demanding stricter gun control laws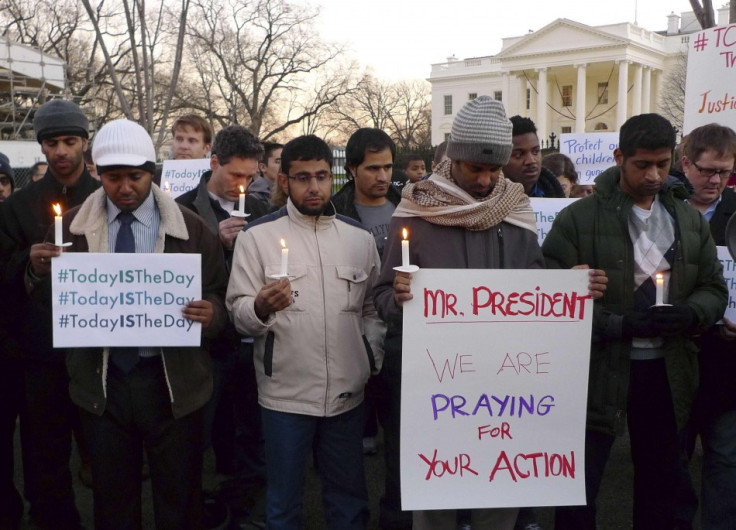 The tragic shooting incident at an elementary school in Newtown, Connecticut, has brought the issue of gun control back to debate in American society.
Hundreds of people gathered outside the White House demanding stricter laws for gun control. The crowd chanted "Today is the day" and held signs reading "Too many guns" and "Disarm".
Up to 20 children aged between five and seven were killed at the Sandy Hook Elementary School by a 20-year-old gunman, Adam Lanza, on 14 December. Seven adults including the gunman were also killed in the mass shooting.
Nearly an hour after the incident at the Sandy Hook Elementary School, a tearful Barack Obama said the country needs "meaningful action to prevent more tragedies".
Supporters of gun control view the re-election of Obama, a longtime advocate of gun control, as a positive development towards bringing reforms on the sensitive issue. Since 1994, US lawmakers have not approved any major gun law, except a ban on assault weapons which expired in 2004.
However, a Republican-led House of Representatives has the power to block any such reforms by Obama because of their strong association with powerful lobbying groups of gun owners and manufacturers.
Gun rights groups are a powerful lobby in the US and no political party wants to risk its popularity by supporting strict controls on gun purchases. During the election campaign, both the candidates were reluctant to touch the issue even in the wake of the shooting at a theatre in Colorado during the screening of the latest Batman movie.
"President Obama rightly sent his heartfelt condolences to the families in Newtown. But the country needs him to send a bill to Congress to fix this problem," said New York City Mayor Michael Bloomberg, a high-profile supporter of gun control who leads the group Mayors Against Illegal Guns.
"Calling for 'meaningful action' is not enough. We need immediate action. We have heard all the rhetoric before."
Media mogul and News Corp Chairman Rupert Murdoch urged politicians to come forward to ban easy availability of automatic and semi-automatic weapons in the country.
"Terrible news today," "When will politicians find courage to ban automatic weapons?" he tweeted.
Meanwhile, the National Rifle Association, a powerful lobbying group for gun owners and makers, said: "Until the facts are thoroughly known, NRA will not have any comment," Reuters reported.
According to a report by the United Nations Office on Drugs and Crime, the gun murder rate in the United States stood at 3.0 per 100,000 population in 2009. In neighbouring Canada it was 0.5 per 100,000 population.
© Copyright IBTimes 2023. All rights reserved.