It started in near-terminal panic at the prospect of Nigel Farage torpedoing David Cameron's big election-launching speech by unveiling another high-profile defection from the Tory ranks to his "people's army".
It ended with the Tory faithful leaving Birmingham with a real spring in their step after a masterful speech by David Cameron that promised big tax cuts, a massive house-building programme, a boost to apprenticeships and youth employment, tackling Europe's open borders and scrapping the Human Rights Act. And all wrapped tightly in the Union flag.
It was an old-time religion speech that harked back to what so many of these delegates believe was a golden age under Margaret Thatcher, full of patriotism, promises to make Britain great and proud and decidedly Eurosceptical.
And, it has to be said, a good number of questions remain over where the cash will come from and whether the pledges are really deliverable.
Cameron may only have mentioned Nigel Farage once but the entire speech sent a message to the Ukip leader that the Tories were the real deal.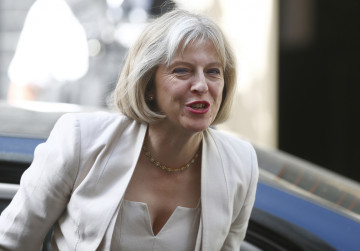 The fact the tax cuts will not take effect until 2018 to 2020, that the Human Rights Act pledge has been made before or that his pledge to get the deal he wants from Brussels requires a leap of faith, the speech did exactly what was needed to end this rally on a high note.
It was particularly powerful coming after a lacklustre performance from Ed Miliband, who Cameron personally targeted, and the fact the entire Birmingham conference had been haunted by the spectre of Farage.
Throughout the entire Conservative conference, ministers, MPs and members were constantly looking over their shoulders, distracted and despairing. But it never materialised.
So while it ended with a bang for Cameron, it concluded with a distinct whimper for Farage when the best he could muster was the son of a leading Eurosceptic MP, Bill Cash, a donor, the aptly named Arron Banks and a former deputy London mayor. All bad news for Cameron, of course, but far from fatal and easily brushed off as second or third-division stuff when a star signing had been promised.
So they got through it without any fresh scars and with a new sense of purpose and the belief that perhaps Cameron was a true-blue Tory after all.
The mood had also been lifted by some powerful performances from potential future leaders George Osborne, Boris Johnson and, most convincingly, Theresa May.
But, while there was that sense they had escaped the worst and delegates were in a livelier mood than those at the lacklustre Labour event, nobody in Birmingham was fooled into believing Farage has gone away or that Ukip no longer poses a real electoral threat to the party. At the very least, Cameron has proved he can be hugely disruptive and sap even the stoutest activists' morale.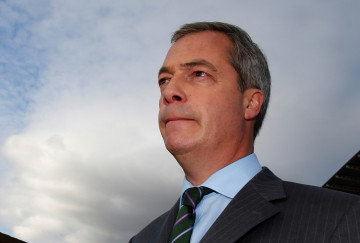 On the evening before the big speech, the conference fringe was buzzing with talk about a likely defector with the names Dan Hannan, Peter Bone and Philip Hollobone all doing the rounds.
At one point, it was even whispered that Farage had booked a big venue somewhere in London to unveil his latest recruit, just as the prime minister got to his feet.
And the simple fact that write-ups of the conference have been dominated by speculation about, and analysis of the Ukip threat proves just how distracting Farage's band can be.
But Ukip represent far more of a threat to the Tories than simply the annoying buzzing of a wasp around the summer picnic, always threatening to strike but never stinging.
For a start, Farage has already stung with the two previous big defections and a smattering of smaller names. He forced Cameron to change the tone of his approach to his Eurosceptics and is patently scooping up votes in Conservative seats.
The fact he also represents a threat to Labour, albeit a significantly smaller one, is little comfort when all the headline-grabbing defections have been from the Tories. And the looming by-elections will show which party has the most to lose in the general election.
It is in the wake of those polls that the next big shock to the Tories may come. If Ukip does significantly well, that could encourage others to jump ship in the belief they really will be contributing to the realignment of the right, rather than just a Labour victory.
And anything like that could rapidly undo all the good work Cameron did in Birmingham.