Conservative manifesto buries Thatcherism as Theresa May promises 'mainstream' Brexit
"We can use this moment of change to build a stronger, fairer, more prosperous Britain," May said.
Theresa May has shifted her party to the left on economic issues with a number of high-profile interventionist policies outlined in the Conservative general election manifesto on Thursday 18 May.
The prime minister, who has promised to cap energy prices and put worker representatives on company boards, said she would oversee a "mainstream government" to "deliver a mainstream Brexit".
"If we get Brexit right, we can use this moment of change to build a stronger, fairer, more prosperous Britain here at home," May told Tory activists in Halifax, West Yorkshire.
"That is why the government I lead will ensure every area of this United Kingdom is able to prosper, with a modern industrial strategy to spread opportunity across the whole country.
"Why the government I lead will build a Britain in which work pays, with a higher National Living Wage and proper rights and protections at work.
"Why the government I lead will keep taxes low and cap rip-off energy tariffs to help families who are working all the hours they can to pay the bills.
"Why we will help those struggling to afford a home of their own by building more affordable homes.
May's five 'giant challenges'
1. The need for a strong economy.
2. Responding to Brexit and a changing world.
3. Tackling enduring social divisions.
4. Responding to an ageing society.
5. Facing up to fast-changing technology.
"It's why the government I lead will build a Britain in which the economy is strong to support world-class public services, with the most ambitious programme of investment in technology and buildings the NHS has ever seen."
May's stance radically differs from the neo-liberal, free-market policies championed by former Conservative Prime Minister Margaret Thatcher.
May, a daughter's vicar, has instead adopted more socially conservative policies,such as pledging to cut net migration to "tens of thousands".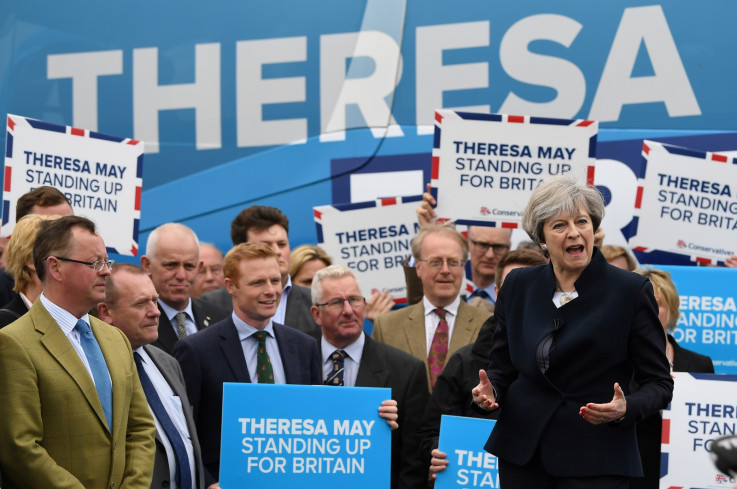 12 May 2017: Theresa May addresses supporters and members of the media in front of the Conservative party's election campaign bus at an airfield north of Newcastle
Justin Tallis/AFP
May gets tough
But with another Tory promise to eliminate the budget deficit (this time by 2025) – the gap between government revenues and expenditure – there are some tough measures in the manifesto.
The Conservatives will scrap the state pension "triple lock" in 2020. The initiative means the government-backed retirement pots rise by inflation, average earnings or 2.5% per year – whichever is highest.
The Tories have also dropped David Cameron's "tax lock", which meant that a Conservative government could not hike income tax, VAT or National Insurance Contributions (NICs).
Chancellor Philip Hammond embarrassingly U-turned over a plan to increase NICs for self-employed people in March after a backlash.
Elsewhere, May plans to axe free school meals for all infants in England. A new free school breakfast programme will take its place.
"It is clear the more you need, the more you pay with May," said Ed Davey, the Liberal Democrat election campaign spokesman.
"Theresa May is betraying working families by snatching school lunches from their children and their homes when they die. The nasty party is back – hitting families from cradle to grave.
"The choices she's made in her manifesto will hurt over half a million frail elderly people and almost 2 million children.
"The Liberal Democrats will stand up to Theresa May's cold, mean-spirited Britain, protecting those that need the most help and fighting for more funding for our schools and hospitals."
The manifesto launch comes just three weeks before the election on 8 June, with the Conservatives 15 points ahead of Labour (49% versus 34%) in the latest poll from Ipsos MORI.