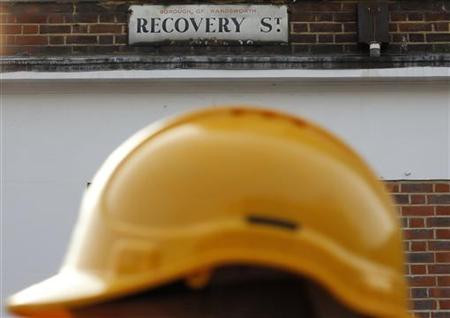 A sharp recovery in the construction sector has led to stronger than expected GDP growth. Analysts had predicted growth of around 0.4 per cent, however today the Office for National Statistics has said that GDP growth actually reached 0.8 per cent in th third quarter.
Despite the strength of the figure, it still represents a slowdown from growth of 1.2 per cent reported in the second quarter.
However the ONS said that growth in the second quarter was higher than normal as the economy recovered from the poor weather in the first quarter of the year. As a result underlying GDP growth in Q3 was "broadly similar" to that in Q2.
The figures revealed that while production industries saw output rise 0.6 per cent and service industries output rose 0.6 per cent, construction led the way with an increase in output of 4.0 per cent.
Howard Archer, Chief Economist at HIS Global Insight, said, "UK growth provided a major upside surprise in the third quarter, as GDP expanded by 0.8% quarter-on-quarter. This was double the rate of growth expected. Construction activity was much stronger than expected in the third quarter, while services activity moderated less than had been suggested by the earlier data and survey evidence. Meanwhile, manufacturing activity held up well.
"While the data suggests that the economy had more momentum than thought in the third quarter, it does not fundamentally change our view that growth will be markedly slower going forward as economic activity is pressurized by major fiscal tightening increasingly kicking in, persistently tight credit conditions, slower global growth and significant constraints on consumers.
"Indeed, we still expect growth to slow to 0.4% quarter-on-quarter in the fourth quarter and then to edge lower still in the first half of next year. Nevertheless, the third quarter spike up in growth means that GDP growth is now likely to come in at 1.8% in 2010. We see growth slowing to 1.6% in 2011
"The resilience of GDP growth in the third quarter appears to put any revivial of Quantitative Easing by the Bank of England on the back burner for now at least. However, it remains a serious possibility should growth slow markedly over the coming months.
"Meanwhile, although Andrew Sentance will see GDP growth of 0.8% in the third quarter justifying his call for a small interest rate hike, we suspect that the remainder of the MPC will remain in no hurry whatsoever to raise interest rates given the serious headwinds facing the UK economy. Indeed, we still interest rates to stay down at 0.50% until at least late-2011."