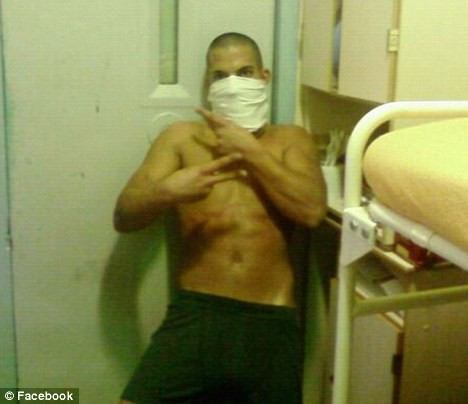 A convicted thief who's serving an 18-month sentence at Camp Hill Prison on the Isle of Wight uploaded pictures of himself in his cell and publicly complained about the Wi-Fi.
Adam Ghali, 26, posted the provocative pictures of himself topless with a cloth around the lower half of his face whilst still in custody.
He wrote: "just on holiday. her majesty has sum fine establishments! camphill is 5star with ensuite facilities, wifi leaves alot to be desired."
He then posted message to his Facebook friends encouraging them to "check in", to which one of his friends replied: "I was thinking Barbados this year but I'm gonna change!"
In one picture, the convict wears just his boxers shorts and makes gestures with his free hand whilst covering the lower half of his face with a scarf.
The thief who is from the Isle of Wight threatened newsagent staff before fleeing the scene with hundreds of pounds from the till.
Unemployed Ghali pleaded guilty and was handed the 18-month sentence earlier this year.
When contacted Camp Hill prison about the Facebook updates and photos to which they replied: "Prisoners have no internet access and are barred from updating Facebook accounts.
"If a prisoner is found in illicit possession of a mobile phone or other contraband they will be dealt with."