Adult actress Cherie DeVille has announced that she's running for president of the United States in the 2020 election cycle – with Gangsta's Paradise rapper Coolio as her running mate. DeVille, who has starred in films such as The Booty Movie 6 and Girls Kissing Girls 20, has suggested she'd like to run as a Democrat.
"If our criteria now for becoming a political official is minor celebrity, I have that," DeVille told The Hill in an lightly veiled barb at incumbent president Donald Trump. Though Trump pulled off an impressive upset to win the election in 2016, his attempt at reelection in 2020 could end up an even more surprising feat.
"In 2020, America will have the opportunity to elect a candidate for president that will actually bring REAL change, a President they can finally trust." DeVille's website states. "Boasting an impressive educational background that includes a doctorate, America will have the chance to elect a woman who has never let anything stop her, thriving in a male dominated industry to reach the very top."
DeVille's site says the porn star got to "a point where she can't just sit around and watch the country she loves so deeply destroyed". The site also sets out policy positions for the unlikely duo.
Alongside pro-LGBT and pro-marijuana legalisation stances, DeVille has been inspired by Vermont Senator Bernie Sanders' run for president in 2016. "Cherie was inspired greatly by Senator Sanders run for the Democratic nomination, specifically by his healthcare and education stances," the campaign says.
DeVille supports the creation of a universal healthcare system in America and says all students "deserve the opportunity to receive an affordable, quality education from a young age right through college" - though does not go into further details.
The candidate is also avowedly pro-immigration, saying that America should "increase the ease of becoming an American citizen" but added that that should be while "using our governmental resources to weed out any threats to our great nation".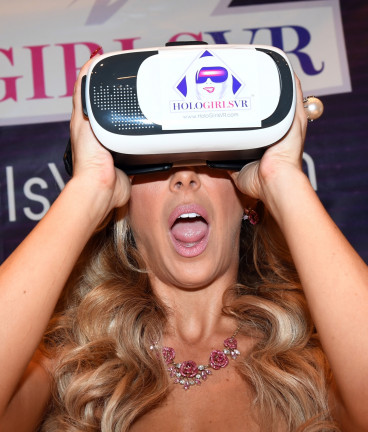 "I remember sitting on my couch, watching the announcement that someone isn't welcome in a land that was made on the backs of immigrants is a true and sincere shame," DeVille said. "I realised I had to do something." DeVille also says she supports campaign finance reform and "will not accept money from the big businesses that currently control our government through shady campaign support".
Matt Yanofsky, DeVille's campaign adviser, told IBTimes UK that though it just started out "as a means of making a statement", they were now "seriously gauging making it official".
"All the policy stances are Cherie's and she truly believes in them" Yanofsky said in an email. "While the notion of a por nstar for president is nuts, Cherie has an extensive educational background including multiple degrees and a doctorate. It's just unfortunate that she's being pegged as 'the porn star running for president' instead of all of her great stances and experience."
The campaign has yet to file with the Federal Election Commission.
"I promise you, I will not make America great again," DeVille says in a video on the campaign site. "We will make America f**king awesome again."