I'm scrolling through MDT (that's short for Meal Deal Talk) and land on a photo of a shopping basket with a white bread ham sandwich, Walkers ready salted crisps and a bottle of Evian water. The caption reads "Rate me: Tesco £3".
I look down and there are hundreds upon hundreds of comments. It's not good.
One user says: "So this is what rock bottom looks like." Others aren't as kind. A comment like "Bland bland bland, your taste buds are in serious need of some flavour before we hold their funerals...", as one person creatively put it, seems sympathetic in comparison. That's how bad it is.
This is Meal Deal Talk UK/EU where strangers from across the continent rate each others' meal deal choices. The only rules are "Each post should be in STMS format: Store, Time, Meal, Score", everyone must be respected, even FBA (Fruit Bag Advocates), and offerings must only be purchased from a "permitted retailer".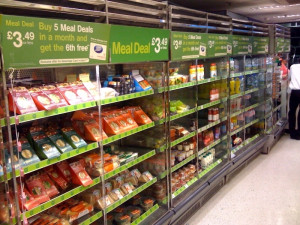 The group states "As of 10/7/16 MDT UK/EU voted in their 10s to decide that posted MDs should come from 'The Usual Suspects' which includes supermarkets, popular convenience stores such as Boots, Coop, WHSmith, Greggs etc."
There's something uniquely parliamentary about the whole thing, while also similar to the feeling of entering a gladiator's ring.
For anyone unaware about this internet phenomena, meal deal rating groups are an unusual subsection of social media that are only increasing in numbers. Just one example of them on Facebook, Meal Deal Talk UK/EU, has 33,200 members from across the UK and Europe. What's more, there's a more extreme version with 6,000 that is far less forgiving in its critiques.
Surprisingly the group hasn't been running for long to achieve those figures either. The first picture was uploaded by the group's creator, Julian, in the summer of last year. Since then, the group has not only gained in notoriety but has commented on current affairs.
Sandwiches recently became a topic of interest following an Evening Standard article in which leading estate agents suggested millennials could afford a house if they "prepared lunch at home rather than buying sandwiches". The piece sparked condemnation on social media including Meal Deal UK/EU who pinned the story post to the top of their group with the comment "Which FBA (fruit bag advocate) wrote this? Thanks, Julian (Admin)".
Following the shaming comments in said piece, it seems groups such as MDT UK/EU are exactly the kind of community that sandwich-lovers need.