Greenhouse gas emissions may have fallen in 2015, scientists claim, in what will mark the first time a drop has been recorded in the modern era during a period of global economic growth. New figures to be published tomorrow are expected to show that rises in man-made emissions "nearly stalled" in 2014 and were on track to have further declined over the past 12 months.
The dramatic slowdown in emissions, which had been steadily rising by approximately 2%-3% every year over the past 30 years, comes despite global economic growth – historically the biggest factor in increased greenhouse gases. The only other time emissions have declined in the modern era was 2008-2009, when the global banking crisis led to a slight dip.
Experts believe the decline is due to greater efficiency in the use of fossil fuels and the expansion of wind and solar power. China's reduction in coal consumption is believed to be another significant factor in the fall. The country does remain the world's largest emitter of greenhouse gases, however, producing approximately 11 billion tonnes of CO2 every year – roughly 30% of global emissions.
The fall in greenhouse gas emissions will be welcome news for politicians currently entering the second and final week of the COP21 UN Climate Change Conference in Paris. The conference's aim is to reduce carbon emissions and limit global warming to below 2C by 2100.
The fall in emissions is expected to be seen as evidence that simple changes to energy efficiency and the expansion of renewable energy sources can lead to significant reductions. This will ease concerns that even modest declines in greenhouse gases required huge economic investment.
News of the decline has been welcomed by global warming experts, who revealed that seeing significant improvements now means that dramatic last-ditch cuts are less likely in the future.
"The importance of this is that the earlier we hit peak emissions, then the less CO2 that will have accumulated in the air and the easier it is to stay below 2C of warming," Sir Brian Hoskins, chair of the Grantham Institute for Climate Change at Imperial College London, told the Sunday Times. "If we peak later, say in 2025, then the cuts we have to make will be much greater and it is uncertain if we could actually do it," he added.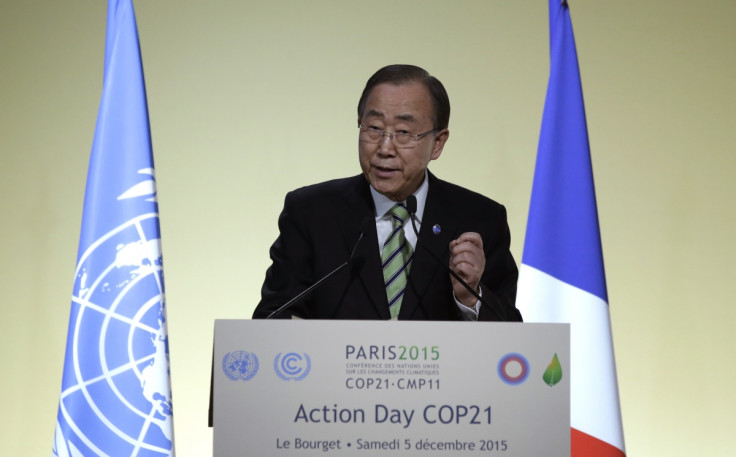 Yesterday UN secretary General Ban Ki-moon told politicians gathered in Paris that the world needed to show far more commitment if it is to hit the UN Climate Change Conference's 2C target. Pledges so far "only bend the emissions curve to a projected temperature rise of 3C. We must hold temperature rises below 2C to avoid catastrophic and irreversible changes to ecosystems and economies. For that we need parliamentary leadership on climate change in every country," he said.
His comments came as negotiators from 195 countries approved a 48-page draft document reducing global carbon emissions and limiting global warming. The move marks a significant step towards international consensus on the approach to climate change.
As well as the reduction of carbon emissions, the document addresses global concerns over deforestation, food shortages, poverty and other global issues, CNN reported.