Lionel Messi, James Rodriguez, Edinson Cavani, Neymar, Alexis Sanchez... some of the biggest names in world football will undoubtedly shine at the Copa America 2015. However, the supporting cast features a number of players who will be looking to get themselves on the radars of a team in Europe's elite.
Manchester United, Arsenal, Chelsea, Liverpool and Manchester City are all expected to have a busy summer transfer window, and any number of players competing in Chile could find themselves with a move to the Premier League. IBTimes UK looks at five figures who could bag a big money move to a major club.
Carlos Bacca
Much has been said about Radamel Falcao's potential move to Chelsea, as well as Arsenal's interest in Jackson Martinez. Fellow Colombian Bacca, however, has been one of La Liga's hottest strikers over the past year and could easily overshadow his two compatriots.
The Sevilla striker, 28, was linked with moves to both Arsenal and Spurs last summer. Also, recent reports say that Louis van Gaal is intersted in bringing him to Old Trafford to replace Falcao.
Bacca has been a key part of Sevilla's back-to-back Europa League wins and scored a brace in the final. While the club are keen to retain his services, any club that can meet his €30m (£21.7m, $32m) release clause could start discussing contract terms.
Nicolas Otamendi
Is Nicolas Otamendi the most in-form centre-back in football today? Fans of Diego Godin and Thiago Silva will argue the toss, but the Valencia defender has had a fantastic La Liga campaign and will be looking to lead the Argentine back-line in Chile.
He has already come out and said that he is looking for a summer move, and Van Gaal will be looking to sign the player he failed to grab with a €35m bid in last January's transfer window. His buy-out clause is a cool €50m.
Roberto Firmino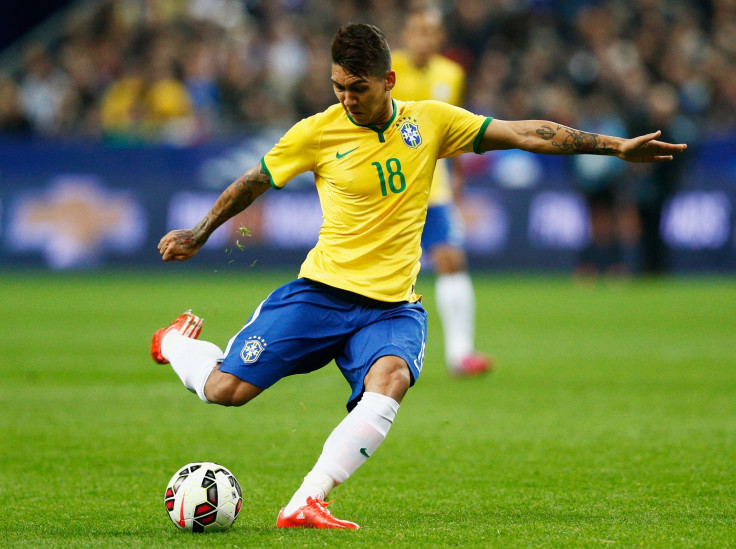 The 23-year-old offensive midfielder has long-been regarded as a major breakout success for Brazil's academy system, and he proved pundits right in the Bundesliga this year, with 7 goals and 10 assists for Hoffenheim.
He has earned a spot in Carlos Dunga's squad on merit and will have a lot to say throughout the tournament – either as a supersub or by nudging one of the more famous players from the starting line-up.
Manchester United and Manchester City have both been linked with his services in recent times.
Charles Aranguiz
While Alexis Sanchez and Arturo Vidal provide the glamour in the Chilean team, it is Aranguiz's spot in the engine room that makes the side tick.
This is why some reports have claimed that Arsene Wenger would like Aranguiz to perform the same routine with Sanchez at Emirates Stadium next year, while others claim Chelsea are monitoring his development closely.
Aranguiz recently revealed that he dreamed of moving to the Premier League, and the Copa America is a great showcase for him.
"[In England] there are very big clubs, they play really well and it would be a dream. But right now it is just that: a dream," Aranguiz said.
Douglas Costa
The Brazilian forward has admitted his dream to play under Jose Mourinho at Chelsea and the Copa America looks the perfect scenario for him to impress the Special One.
"I'd be really interested in moving to Chelsea – not only because of everything Willian tells me about the club, but because I think that I'd be able to achieve everything I want having someone like Jose Mourinho by my side," Costa recently told FourFourTwo.
He is currently at Ukraine's Shakhtar Donetsk and is also believed to be on Liverpool's wishlist.