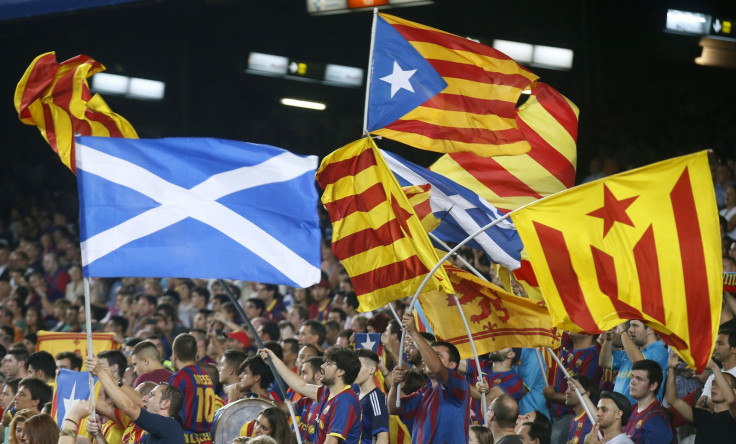 A Spanish court has overturned the ban on fans bringing Catalan flags to the upcoming Copa de Ray finals at the Vicente Calderón Stadium. The ruling was made on 20 May after the Spanish government decided to ban Barcelona fans from bringing the Estelada — pro-Catalan independence flag — into the stadium for the game between Barcelona and Sevilla.
FC Barcelona had earlier announced that they would retaliate the ban by ordering 10,000 of the Saltire — Scottish flag — and flying them during the match on 22 May but following the ruling, they have decided not to go ahead with the plan.
The judge rejected the public prosecutor's argument that the Catalan flag, which had become a symbol of Catalonia's independence movement, could lead to serious public disturbances, or even violence.
"In no case has it been proven at this procedural stage that the exhibition of the so-called 'estelada' (pro-independence flag) can incite violence, racism, xenophobia or any other form of discrimination that violates human dignity," the court said in its ruling.
While fans are glad about the overthrow of the ban, FC Barcelona released a statement voicing their concerns. "The club celebrates that the judge's decision will allow the free expression of legal symbols and banners by its members and supporters," it read.
"At the same time, FC Barcelona expresses its concern about the re-occurrence of situations like the one on Wednesday, and which are an affront to the freedom of expression, and do nothing to benefit what has always been a celebration of football and sport."
Barcelona fans have been waving the Estelada for ages at football games but the regional flag has taken on a stronger political identity following rising separatist sentiment in Catalonia. The regional government has been attempting to split from Spain but the national government of the People's Party (PP) has refused to allow the prosperous north-eastern region a chance to hold a referendum.
The choice to fly the Scottish flag when the Catalonian one was banned was a direct reference to this political tension. Scotland was allowed a referendum in 2014 and voted to stay in the United Kingdom but the Spanish government will not allow Catalonia a similar choice.
"We've chosen this symbol because it highlights the different treatment that Catalonia receives from Spain, compared with the UK government's treatment of Scotland," BBC reported a group of bodies as saying in a statement.
Football has today become a loud reflector of Catalonia's political situation and at Barcelona's home games, fans often shout "independence" in unison after 17 minutes and 14 seconds of play to mark the year 1714, when the city of Barcelona was captured during the War of Spanish Succession.