Thousands of lurid pink bottles washing up on beaches across the south coast of Cornwall contain Vanish stain remover, it has been confirmed. The bottles are believed to have gone missing from a container reported missing at sea from cargo ship DS Blue Ocean near Land's End in May 2015.
A major clean-up operation has been organised by the National Trust, the Navy and local residents' groups, and more than 4,500 of the bottles have been recovered from Poldhu Cove and Porthleven. Cornwall Council believes 18,720 bottles were initially in the container, meaning more are likely to appear.
Justin Whitehouse, in charge of the clean-up operation on behalf of the National Trust, said more than two tonnes of bottles had been collected so far. He is worried about the ecological impact.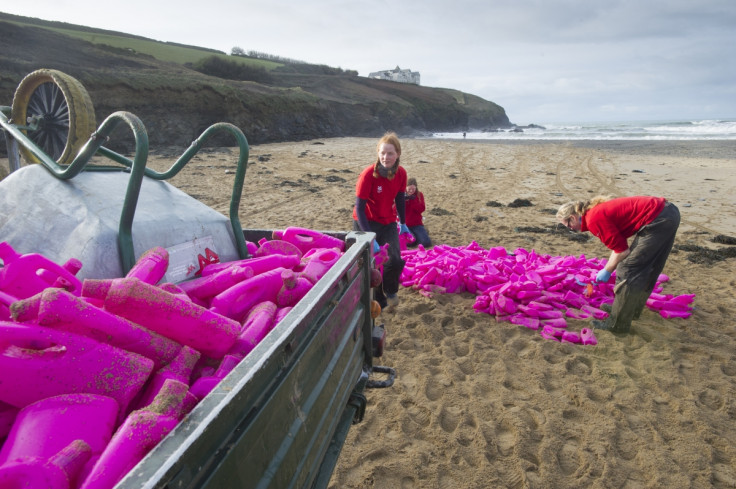 "There is potential for more of the bottles to spread further up and down the coast," he said. "Samples of bottles have been submitted for independent analysis and are waiting for the results, as our immediate concern is any impact on the environment and wildlife."
Matt Slater, from Cornwall Wildlife Trust, told the BBC he was concerned for the safety of local wildlife. He said: "We're worried about the contents of the bottles which might have an impact on marine life, and of course the plastic bottles themselves could persist in the environment for hundreds of years. Plastic pollution in our seas is a great concern. Smaller pieces get ingested by marine animals causing illness and sometimes death."
In a statement, multinational firm Reckitt Benckiser, which manufactures Vanish, confirmed between 30% and 50% of the bottles had been recovered, and denied there would be lasting impact on the environment.
It said: "We understand that many bottles remain intact, while others have inevitably been damaged due to storms and heavy seas. We can confirm that the Vanish formulation is readily soluble in water and is highly unlikely to cause major or lasting impact to wildlife or the environment."