Coronation Street is set to take another dark turn in an upcoming episode when David Platt discovers that Shona Ramsey is the mother of Kylie's teenage killer Clayton.
The ITV soap will soon see David accompany Lily and Max to the grave of their mother, and is pretty surprised to see a sheepish looking Shona at her resting place.
Over the next few weeks, David and Shona will continue building a friendship despite her real identity being kept under wraps.
The heartbroken dad – who is played by Jack P Shepherd – now raises the two children alone and, in upcoming scenes, will take them to pay tribute to their beloved mum Kylie, who was stabbed to death by thug Clayton.
Upon seeing Shona (Julia Goulding) near the grave, his expression turns to anger as he sees her staring intently at Kylie's resting spot.
It will emerge that Shona has made a pact with Gail that they will jointly keep the secrets of Shona's connection to Clayton and David's plan to kill him. When Shona sees the family mourning at Kylie's grave, it may well drive her to confess to what she knows. Shona has visited Clayton in jail and admitted to Gail that she is his mother.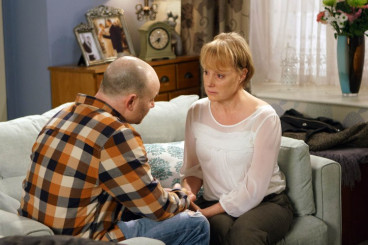 Elsewhere in the soap, Sally Metcalfe's (Sally Dynevor) stalking nightmare is set to reach new levels as prime suspect Gina Seddon will deny any involvement in her sister's horrifying experience. This comes after Leah told Rosie and Sophie Webster that Gina was tormenting Sally for allegedly abandoning her.
When things don't add up, Rosie and Sophie try to get answers from their aunt Gina about tormenting their mother, but are confused when she denies any involvement to them.
Leah later claims that Gina's bipolar condition is the reason for her confusion and insists that she has no memory of her actions. Who should we believe? You'll have to stay tuned to find out...
Coronation Street continues tonight at 7.30pm on ITV.