Corrie fans were taken aback when Rob Donovan returned to Weatherfield last night (19 April) in a huge plot twist after two years behind bars.
Rob made his comeback to the ITV soap by hiding out in a disused gym with lover Tracy Barlow (Kate Ford), and his return is due to a police mix up.
Coronation Street fans will know that Rob is meant to be serving 25 years for the murder of Tina McIntyre, who was famously played by Michelle Keegan. He hasn't starred in the soap since January 2016, but made his return sooner than we all expected.
Rob and Tracy are now secret lovers and have been seeing each other off screen for several weeks. This revelation could also mean Rob is a suspect for attempting to murder Ken Barlow since he was on the run during this time – a storyline that has had viewers on edge for several weeks.
Actor Marc Baylis who plays Rob told The Mirror: "It's not that Rob has hired a pneumatic drill, gone through the prison walls and sprinted for his life. It's not planned. An incident occurs which does involve the police. There's a crash and he seizes the opportunity."
He also commented on his relationship with Tracy, adding: "It's not the easiest of scenarios they're in and what we're trying to do is tell the love story. It is doomed, it's a horrible scenario.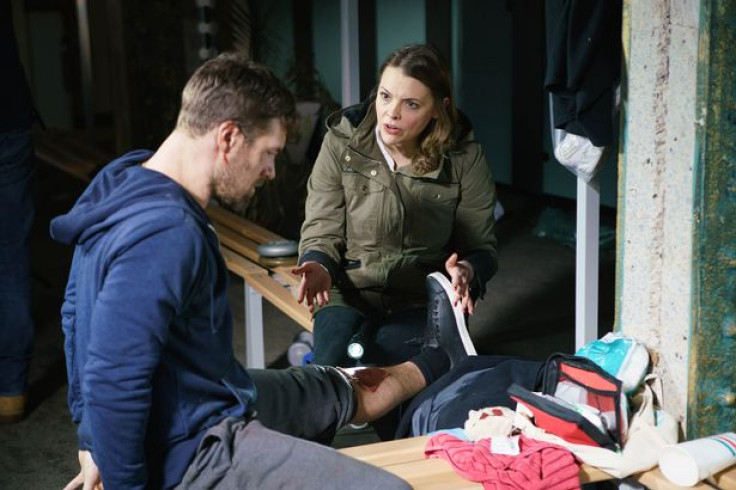 "If you're in love as passionately as they are with each other and it is genuine, the fact you know it can't go anywhere – it's kind of redundant in a way. But the feelings don't stop just because it's redundant so that's the struggle we've enjoyed playing."
The cold-blooded killer pushed Tina from a balcony with a lead pipe in a 2014 episode and tried to frame Peter Barlow for the murder.
Some viewers were aghast about the killer's swift return, but with many more taking to Twitter to express their happiness. One person wrote: "Just watched #Corrie from last night, good to see bad boy #RobDonovan back on the cobbles," as another put: "Corrie giving us lots of twists lately. They're being good to us. So glad Rob Donovan is back".
A third added: "So Rob Donovan is back and i have just got way too excited! #corrie".
It has been said that Baylis has been on set for several months, which insinuates he is on the soap for the most part of 2017.
Coronation Street continues tomorrow (21 April) at 7.30pm and 8.30pm on ITV.