China's 'Brother Wristwatch' Corrupt Official Yang Dacai Pleads Guilty to Bribery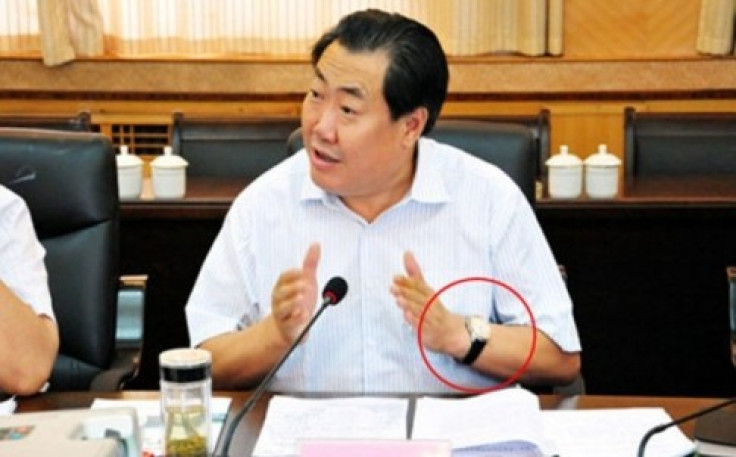 A Chinese official, who was sacked after bloggers exposed his unwarranted wealth, including a collection of luxury watches, has pleaded guilty to corruption charges.
Yang Dacai, appeared before a court in Xi'an, central China, accused of taking 250,000 yuan (£26,000) in bribes and having bank deposits of 5.04m 250yuan (£530,000) from dubious sources.
Yang's downfall started last year, after he was pictured smiling and grinning at the scene of a bus crash that killed 36.
The 55-year-old head of the Shaanxi Provincial Bureau of Work Safety tried to defend himself saying he was trying only to cheer up the rescue crew.
However, sharp-eyed netizens noted that he was wearing a very expensive watch.
Soon the web was flooded with a series of photos, each one showing Yang's wrist adorned with his pick of luxury watches. The collection included a $5,000 Montblanc, an Omega Constellation ($10,000) and a $32,000 Constantin, together with another eight timepieces for a combined total of $100,000 (£64,500).
Yang was soon nicknamed 'Brother Wristwatch' and sacked from his post for "severe violations of party discipline". Corruption charges followed shortly.
Ironically, before serving as a safety official, Yang was on the Communist party's watchdog group against corruption.
He faces several years in prison, with his sentencing to take place at a later date, state media reported.
Chinese authorities have cracked down on corruption since President Xi Jinping pledged to clean up the party upon taking office last year.
Most cases however have been built against provincial officials of medium or low importance, while more senior managers remain unpunished.
At the same time, authorities have launched a campaign against online speech, after many corrupted officials were exposed by bloggers.
A journalist, who alleged dereliction of duty by a senior official has been recently arrested and scores of social media users detained on charge of fabricating and spreading false rumours.
© Copyright IBTimes 2023. All rights reserved.