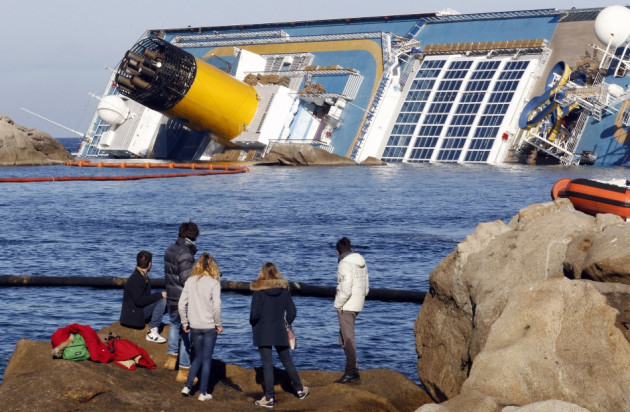 Italian rescue squads were forced to suspend operations again on Friday after the Costa Concordia stricken liner slipped on its rocky perch due to rough weather conditions.
Italy's environment minister Corrado Clini is expected to propose strict measures at a Cabinet meeting that would prohibit luxury cruise ship to sail closer than three miles to the Italian shoreline.
Reports suggest that Italy could face its worst environmental disaster in decades if the 2,400 tonnes of fuel in the liner pollutes the water off the Giglio Island.
"If the Costa Concordia slides further down and the fuel begins seeping into the water, we could be talking years and dozens of millions of euros before it can be cleared up," Luigi Alcaro, head of maritime emergencies at Italy's government agency for the environment told Reuters.
The leakage could be highly toxic for the area, which is a natural marine park renowned for its waters, marine life and coral. The Giglio Island is a renowned diving site and the surrounding archipelago is home to more than 700 botanical and animal species, including turtles, dolphins and seals.
A spokesman for the fire-fighters heading the rescue said the ship was shifting about an inch every two hours. Divers were evacuated from the ship's half-submerged hull because of the risk that the liner could slide into deeper waters.
Experts claim that the best scenario would be to stabilise the ship and pump the oil out.
"The oil on the ship is very thick and sticky, so you'd have to drill a hole in the hulk and warm it up to make it more fluid and easier to extract," Alcaro said.
"That could be done in about a month for the 13 external tanks on the ship. There are another 10 tanks inside, and those are a lot more difficult to reach."
Salvage crews hired by Costa Cruises have yet to begin tapping the half-million gallons of diesel fuel spilling in the ship's tanks because the search for bodies has not been concluded.
Eleven bodies have been found until now. At least 22 people are still missing.