Costa Concordia Set Upright after 19-Hour Operation
Twice as big as Titanic, Costa Concordia, with over 4,000 passengers, had capsized off Italy's Giglio island in 2012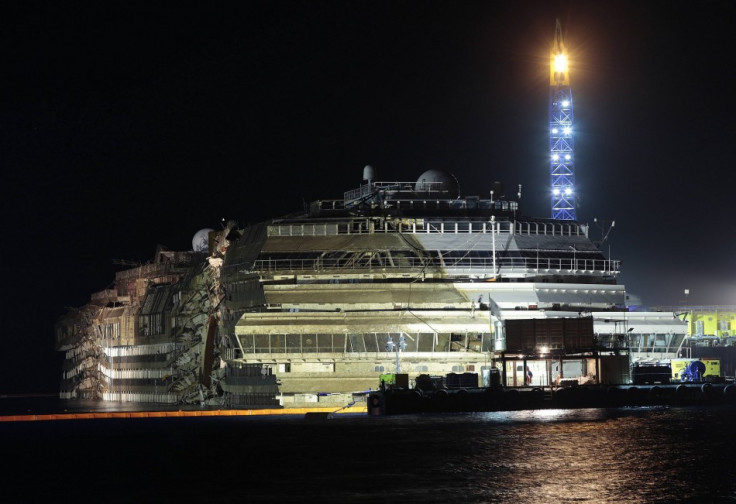 The wrecked cruise liner Costa Concordia has been set upright in an unprecedented salvage operation off the Italian island of Giglio.
The operation, known as parbuckling, took nearly a day but was completed without encountered any significant problems.
"The ship has been settled onto its platforms. We have accomplished an important step towards removing the ship from the island," Franco Gabrielli, chief of Italy's Civil Protection Authority, told reporters.
The entire operation was completed at about 02:00 British Time. The operation has been one of the most complex and expensive in maritime recovery history, costing nearly €600m (£504m).
The ship, with more than 4,000 people onboard, ran aground in January 2012, killing at least 32 people. The 290-metre-long liner, twice the size of the Titanic, remained half-submerged after it crashed into rocks.
The bodies of two missing persons, Maria Grazia Trecarichi and Russel Rebelli, have so far not been found during the operation. The search for them is to be continued once the area is cordoned off after the salvage operation.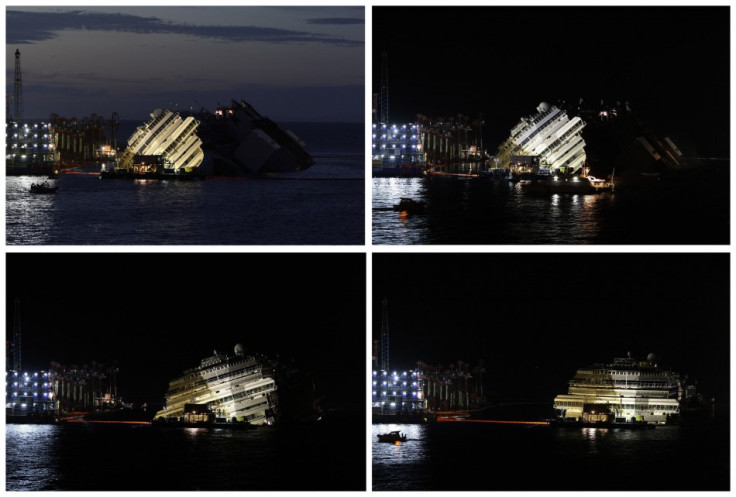 "The first two hours [of operation] were the most uncertain, because we didn't know precisely how much of the ship was stuck," said Sergio Girotto, project manager at Microperi, the off-shore engineering firm in charge of the operation.
Following a three-hour delay in starting the operation, there was also cable maintenance work which lasted for an hour. The entire operation was initially estimated to take at least 10 hours, but it was completed in 19 hours.
Engineers have welded a new ship onto the wreckage to refloat the ship. The stricken ship will be towed away to be cut up for scrap at the Tuscan port city of Piombino later.
"It's difficult to imagine.... the Costa Concordia travelling long distances, running risks of all types, not to mention enormously high costs," said Italian Transport Undersecretary Erasmo D'Angelis.
The scrapping process is expected to take two years.
© Copyright IBTimes 2023. All rights reserved.