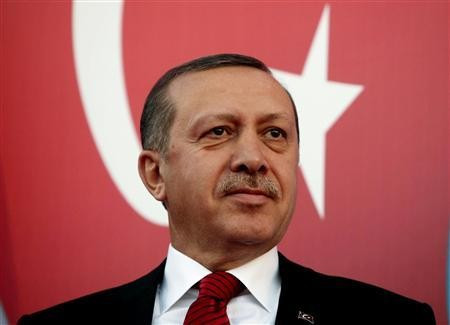 With Turkey's Prime Minister becoming more vocal against Israel, the Netanyahu government finds itself at the centre of a regional opposition and with Erdogan embarking on a trip to Egypt, Libya and Tunisia, analysts warn that the situation could further Isolate Tel-Aviv.
Erdogan's visit to Africa came just days after a diplomatic row surrounding the 2110 Gaza flotilla incident in which eight Turks and one Turkish-American were killed by Israeli forces, erupted. While Turkey was a major trade partner of Israel, the row led Ankara to cut ties with Tel Aviv.
The last few weeks have also seen the relationship between Israel and Egypt deteriorate rapidly, with Mubarak, one of the few Arab leader also ally of Tel Aviv ousted from power. Egypt's new interim military government has until now struggled to bring protesters who attacked the Israeli embassy in Cairo under control.
Turkey has recently asked Israel to apologise for the killing of the eight activists which the Netanyahu government has refused, and the two countries upped their criticisms towards each other, with Turkish Foreign Minister Ahmet Davutoğlu saying Sunday that Israel was "out of touch with the region and unable to perceive the changes taking place, which makes it impossible for the country to have healthy relations with its neighbours," according to Turkish newspaper Today's Zaman.
Israeli officials are now concerned Erdogan will use his tour to influence his African counter-parts and work on acquiring closer ties with them at Israel's depend.
While countries as Syria and Iran have for long been known to criticise Israel, Turkey is now emerging as a key regional actor which also is in opposition to Tel Aviv.
Meanwhile with Egyptians upset with the Transitional Military Council for the lack of new reforms and the slow steps taken to bring about a social and economic recovery that is so needed, the Muslim Brotherhood could still emerge as a power to be reckoned with in the Egyptian polls this fall, rendering the relationship with Israel even more complicated.
If the two major states of the major states of the Eastern Mediterranean were to align against Israel, the regional ramifications could prove important as it would bring about a new balance of power and corner Israel.
Proving that Israel now has another opponents to deal with Erdogan also said to Al Jazeera in a recent interview that the Israeli raid on the Gaza flotilla was reason enough for war while praising the continuing of peace of turkey's restrain.
"It is a cause for war, but we decided to act in line with Turkey's grandeur and showed patience," said Erdogan.
The latest opposition to Israel also comes as Palestinian leader Mahmoud Abbas is expected to launch a Palestine statehood bid at the United Nation, constituting yet another diplomatic offensive against the country.
Facing regional isolation and domestic protests, is putting the Netanyahu government in an increasingly difficult position which might call for more flexible policies internally and abroad.