The #nomakeupselfie viral campaign has raised £8m for Cancer Research, which will help fund 10 clinical trials, but what will it do to the cosmetic products industry?
According to a research report by Brand Finance Cosmetics 50, the total brand value of the world's most famous make-up firms has risen to $106.2bn (£64bn, €77bn), from $101.5bn.
L'Oreal, which tops Brand Finance's list, is the world's only $10bn cosmetics brand and its value is up 24% [Figure 1].
"The key to L'Oreal's success is its unrivalled marketing focus and investment. Its marketing graduates, drawn from the world's top universities, are well trained and well resourced," said Brand Finance chief executive David Haigh.
"With the perfectly constructed and enduring 'you're worth it' slogan, L'Oreal has pulled off the trick of simultaneously capturing the mass market while maintaining an air of exclusivity."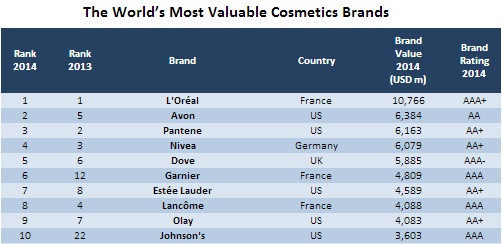 Brand Finance adds that it is unlikely that the #nomakeupselfie will hurt the cosmetics industry in the long term despite the highly popular campaign being slap-free.
"The #NoMakeupSelfie trend has succeeded in raising thousands for charity but it seems that despite the involvement of thousands of people and dozens of celebrities, makeup sales haven't suffered as a result," said the report.
Brand Finance assess companies' values annually by determining the royalties a corporation would have to pay to license its brand if it did not own it, known as the 'royalty relief' method.
As well as a brand value, each of the 50 brands it assess in the table is accorded a brand rating which the group call "a benchmark of the strength, risk and potential of a brand relative to its competitors, expressed as a letter code from AAA+ to D, similar to a credit rating."
L'Oreal tops Brand Finance's list while Avon ranked second after "staging a remarkable recovery."
"A drop in sales and bribery allegations in China had seen brand value fall 35% between 2012 and 2013," said Brand Finance in the report.
"However CEO Sheri McCoy's robust approach, creating $400m savings at the expense of 1,500 staff, has seen the beginnings of a turnaround. Brand value is up 24% to $6.84bn while the brand has been strengthened, and has been upgraded by Brand Finance from AA to AA+."
American and French brands dominate the list, accounting for over two thirds of the total brand value.
Germany's most valuable brand is Nivea, which has a brand value of $6.1bn, putting it 4th worldwide. 5th on the list is Dove ($5.9bn), the UK's top Cosmetics brand. Japan's Shiseido ($2.5bn), Brazil's Natura ($2.5bn) and South Korea's Sulwhasoo ($439m) also make the list.