The present may be uncertain for Real Madrid's sacked manager Rafa Benitez, but his future does not seem too encouraging either. Despite his past record, it looks as if all the moves the former Liverpool hero will make from now on will be steps backwards. Barcelona and Manchester United are perhaps the two biggest jobs out there he is yet to take on, but given his history with Los Blancos and United's arch-rivals on Merseyside, it seems safe to say they are off the table.
After a short fiasco at Inter Milan and another tenure without much glory with Napoli, Italy's Serie A does not look like a credible destination for him to return to, even though the likes of Roma and Milan could fit in with both his style and his ability to get the best out of struggling teams.
The 55-year-old Spaniard has managed, with varying fortunes, everything from small clubs, like Extremadura and Tenerife – promoting both to La Liga, to top teams, including Real Madrid and Chelsea. At this point after his fiascos with Real Madrid and Inter Milan, which had won the treble under Jose Mourinho just prior to his arrival, it seems clear that his rotation style, where hard work is valued more than talent, would fit better with a middle-level side with eagerness to become top, than with a giant. His successes at Liverpool and Valencia are his career high points, so a return to either club in the short-term shouldn't be ruled out.
Considering that Benitez is rated better in England than in his Spanish homeland and the fact he prefers to be a manager rather than a mere coach, other likely options could be a Premier League club currently in trouble but with potential to grow, such as Newcastle or Swansea. Nevertheless, it is worth remembering that in the summer he was just steps away from taking over West Ham before receiving the Galacticos call. The Spanish National team also appears at the bottom of the list of possibles, although it seems more like a personal dream than a real opportunity.
Valencia – The most likely option
Gary Neville's long-term future at Mestalla is uncertain. The Manchester United legend signed a contract as interim coach until the end of the season and his start to life in La Liga does not look too promising having won only one out of six games since replacing Nuno.
So if owner Peter Lim opts to change the manager once again in the summer, few options seem as good as a club legend like Benitez. The Spanish coach lost his Real Madrid tenure due to his side's draw against Valencia on Sunday (3 January) but the funny thing is that while Los Blancos fans whistled him, the Ches welcomed back Benitez to Mestalla with cheers and numerous supportive banners. After all, Benitez helped Valencia to reach back-to-back Champions League finals in 2000 and 2001 and led them to their first La Liga title in 31 years in 2002, repeating the league title in 2003-2004 and also conquering the UEFA Cup before moving to Liverpool.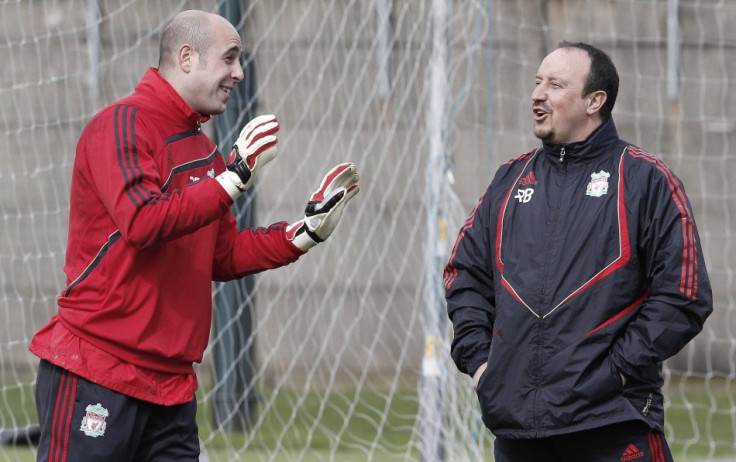 Liverpool − You never know...
Whatever happens this season everything indicates that Jurgen Klopp will remain as Liverpool manager next season. However, in football nothing is ruled out and the truth is that the German coach has a tough job ahead to show that he is the right man to lead the Merseysiders back to the elite − where Benitez once took them, winning the Champions League in 2004-2005, the FA Cup in 2005-2006 and as well to Uefa Super Cup the Community Shield.
Furthermore, Benitez loves rainy Liverpool − not many Spaniard could say that. He still lives in the city and indeed his family have remained there during his recent tenures both at Napoli and Real Madrid.
Spain − The longest shot
Benitez has never hidden his intention to become the national team boss in the future and, with Vicente del Bosque ready to quit after the Euro 2016, he could be among the candidates.
The Spaniard is arguably one of the most successful managers in contention in terms of titles at this moment – alongside Pep Guardiola, Unai Emery and Luis Enrique.
However, his recent failure at Real Madrid and especially his defensive style reputation doesn't look to fit well with the tiki-taka philosophy – and neither does his relationship with the likes of Isco, Dani Carvajal or even Jese who are expected to be the future of the team.