In one of the most thrilling La Liga match of the season, Valencia denied Real Madrid a chance to move second in the table on 3 January and put more pressure on Rafa Benítez, who is now a dead man walking in the Spanish capital. Los Blancos led twice at the Mestalla, thanks to Karim Benzema and Gareth Bale's goals, but Gary Neville's side equalised at the end of either half in a match that sums up what has been going on at both clubs during the last few weeks: lies, damned lies and statistics.
The famous quote, often misattributed to Mark Twain, can be applied to both Cristiano Ronaldo and Gary Neville, both former Manchester United players. Football is not a science but alongside the development of apps, gadgets and technology, we tend to rate performances based on figures, as if they reveal the truth. Numbers might work to explain certain situations on the pitch but they might as well lead to the so-called 'tyranny of immediacy'. We tend to forget, as Jorge Valdano said once, that "football is a state of mind".
Neville has not been able to win a single game in La Liga since he was appointed as head coach at Mestalla: four matches, three draws and one defeat. Los Murciélagos sit 10th in the table, with a 13-point gap between them and Villarreal in fourth. Valencia's aim this season is to qualify for the Champions League like they did a year ago, and some might be tempted to say that Neville's tenure has so far been disappointing. However, the club's performances are improving week in, week out. And the 40-year-old coach is enjoying something not afforded to coaches gone before him – support and patience from the Valencia faithful .
Speaking to IBTimes UK, RadioEsport's Dani Meroño said: "Gary Neville has a tough task at hand. He has inherited a small squad and he needs to activate a group of players that have been unable to generate decent football during the first months of the season under Nuno Espiritu Santo's tenure. He needs to do it as soon as possible.
"Gary Neville is handling the dressing room efficiently but, again, there are certain situations at the club that complicate his mission. Despite Valencia having a reliable and powerful economic situation, they need to reconsider some facets of its football project."
Following the same line of thought, Bein Sport's commentator Duncan McMath emphasised the differences between David Moyes and Gary Neville in their Spanish adventure. "Whereas Moyes was unable to count to ten a year after his arrival at San Sebastian, Valencia's manager is making further progress with the language," he said.
On the pitch, the progress is obvious as well. As shown against Real Madrid, Valencia look fitter and stronger than a month ago. Increased passing accuracy, unmatchable spirit and an attractive style means Neville's first win should not take much more time if they keep improving.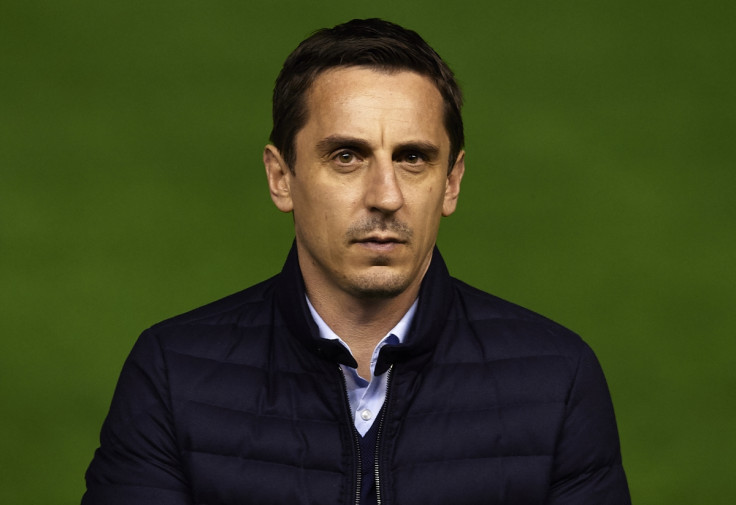 Four matches, still no victories, three points out of 12, statistics far from being impressive but there is hope and praise for the ex-England defender, who admitted after Real Madrid's match that he wants to continue with the club next season.
In contrast, there were sad faces among Real Madrid's players at Mestalla. Although Los Blancos battled well while a man down and even scored a goal after Mateo Kovacic was sent off, they missed another opportunity to close the gap to Barcelona as Luis Enrique's side drew at Espanyol's Cornella on 2 January.
It was further proof of the unreliability of statistics in football, and of an uncomfortable truth at Santiago Bernabéu. Cristiano Ronaldo is no longer the footballer he used to be and Gareth Bale, the best Madrid forward at Mestalla, is a damaged player. Constantly moved from one position to another in order to maximise Cristiano's own statistics, Real are not making the most of the Welshman while the club remain in third, with Villarreal one point behind. Bale, by the way, has scored four headers in La Liga his seasons, more than any other player in the Spanish top flight.
So far, Cristiano Ronaldo has scored 25 goals this season. But 11 goals came against Malmö and Shaktar in the Champions League and five against Espanyol. Not exactly the most demanding fixtures in Los Blanco's calendar.
And therein lies the dilemma, because when it comes to the subject of big games, Cristiano just disappears. Real Madrid have played against Athletic Bilbao, Atlético Madrid, Paris Saint-Germain, Sevilla, Barcelona, Villarreal and Valencia so far and three-time Golden Ball winner has not scored a single goal. Not what you expect from the player who guided Real Madrid to ample success. Lies, damned lies and statistics.
Real Madrid might solve some of their problems with a change of manager, one who might dare to challenge Ronaldo. Will he dare to line up Gareth Bale on the left, where he makes the most of his skills? Will he realise that in among the glitter, there is no gold?