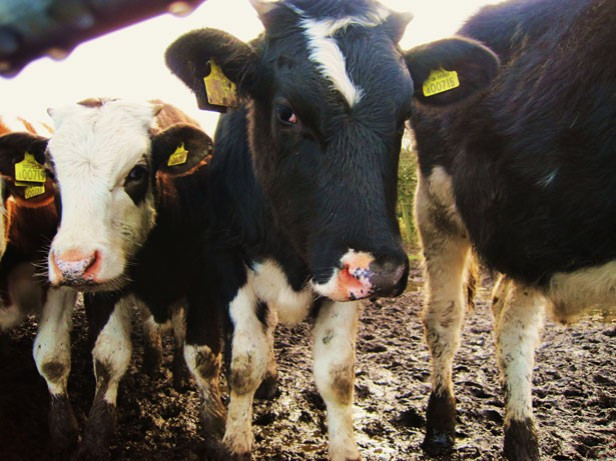 Cows may be regarded as docile but walkers in the countryside this summer have been warned that they can kill.
While most ramblers are wary of bulls seeing red, few know that cows, particularly those nursing newborn calves, can also be also killers.
One person a year is killed in Britain on average by charging cows and many more are hurt, say agricultural experts.
Two deaths have been recorded in Wiltshire alone since October. Over the last eight years, 18 people died after they were trampled by cattle and 481 people were injured, according to figures from the Health and Safety Executive.
An inquest on Tuesday ruled that retired accountant Sandra Wiltshire, 68, and her dog were killed by a herd of cows after she strayed into a field outside Chippenham in Wiltshire last October.
In May, retired lecturer Alistair Porter, 65, was killed and his brother seriously injured by a herd in Turleigh, near Bradford on Avon, while they were walking their dog.
In nearby Elbow Field on the banks of the Kennet and Avon Canal there have been four serious attacks in five years.
Former home secretary David Blunkett was trampled by a cow while trying to protect his guide dog, Sadie, during a walk in the Peak District in 2009.
Cows attacks peak in spring and early summer, when herds are protective of their calves, and are highly sensitive to encroachment. There are about 7.5 million cows in Britain.

NFU livestock board chairman Charles Sercombe told IBTimes UK: "The countryside is a working environment where animals graze so it's important to take care and be mindful of your surroundings.
"If you're walking with a dog please keep it on a lead when walking around livestock. In the spring it's especially important for walkers to be sympathetic to farm animals rearing their young and give them space.
"If you feel threatened by animals protecting their territory or young do not run, move to the edge of the field, and if possible find another way around."
He said attacks tended to happen when people or dogs came between cows and calves. "Instinct takes over and they protect their offspring. I know from working with livestock for more than 30 years that when calves are newly-born it is one of the most dangerous times.
"Injuries often happen when owners pick up their dog to protect it, which is precisely the worst thing you can do. Let the dog fend for itself; it will run away."
NFU rural supervisor Robert Sheasby said: "Cows can get aggressive in the presence of dogs, especially if they have their calves with them."
Nicky Philpott, campaign dolicy director at the Ramblers Association, said: "Attacks by farm animals are extremely rare but do take place. We advise the public to take extra care, to follow our advice, and the advice in the Countryside Code.
"We also urge farmers to minimise the threat to walkers crossing fields [containing] livestock, for example keeping certain breeds of cattle out of fields with public rights of way."