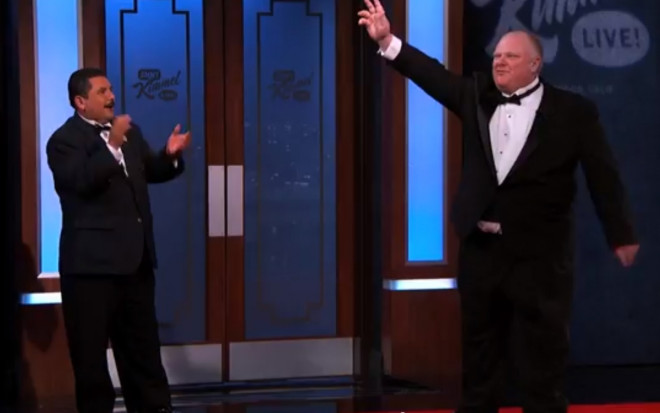 Rob Ford, the Toronto mayor at the centre of a crack-smoking scandal, made a special appearance on Jimmy Kimmel's Oscar Night Special.
Kimmel was telling his audience that the next night's guestlist would include "the honourable mayor of Toronto" when Ford suddenly appeared on the stage.
"Wait a munute You're on the show tomorrow night," said Kimmel.
"Oh... sorry Jimmy," said Ford despondently and walked offstage.
"Let that be a lesson kids, God does answer your prays if you pray hard enough," Kimmel quipped.
The Toronto mayor has been mired in controversy for years over his views on HIV and women, but plumbed new depths in 2013 when he was exposed at the centre of a crack-smoking scandal.
Admitting to smoking crack cocaine, accusing a journalist of being a paedophile, threatening to rip an unknown person's "f*****g throat out" and murder him are just some of the highlights of Ford's 2013 (not to mention sharing too much with reporters about what he ate at home).
After all these scandals, the mayor of the fourth largest city in North America maintained that he was is a role model to children.
View the mayor's guest appearance in the video below.