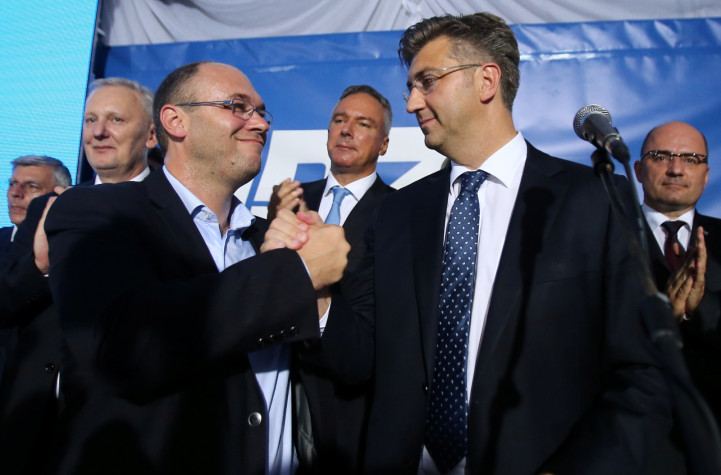 The conservative Croatian Democratic Union (HDZ) was in the lead to win most of the parliamentary seats in elections held on Sunday, preliminary polls showed.
After 60% of votes were counted, the HDZ had about 61 seats while the Social Democrats (SDP) had around 54, Reuters reported. A close result could force either party to seek the help of the centre-right party Most (Bridge), to form a coalition. The party which has won 13 seats so far said that any party it forms a coalition with, will have to vow to implement its reformist plans.
In November last year, a government was formed and was led by the HDZ, but it collapsed in June due to controversy over public administration reforms and government appointments. This is the second election in the country in less than a year. More than 3.8 million eligible voters registered to vote, while only 1.9 million cast their ballots. The voter turnout was around 52.38%, which was eight percent lower than the turnout in the November elections.
The HDZ party is not likely to have a clear majority in the 151-seat parliament, even with help of the Most party. They would also need the help of other smaller parties, including deputies of ethnic minorities. The new leader of the HDZ, Andrej Plenkovic said: "I am sure that we are the party that will have the privilege of forming a stable government for the next four years."
However, officials of the party were cautious and warned that the initial results may be unrepresentative of the total votes as the results would be skewed towards rural districts that are their stronghold. Željko Reiner, HDZ speaker of parliament, said on TV, "It is still a small number of votes counted and we should not be in euphoria."
The conservative party also faces a tough fight from the Social Democrats (SDP), whose leader Zoran Milanovic still hopes of forming the government. He said, "The votes are still being counted. Croatia needs a stable government and at this moment we still don't know what that government will be."
Croatia is said to be one the weakest economies of the European Union, where unemployment is at 13%. Nearly three years after joining the European Union, Croatia's record of securing European funds is poor. Economic growth of 2.4% is far lesser than the 4% needed to raise living standards in the country, according to analysts.
The EU wants it to implement a series of reforms including cutting its budget deficit, bring down public debt and restructure public administration, and improve restrictions on businesses to kick start the economy that is still dominated by state enterprises. According to BBC, a weak coalition would not have the mandate to pass reforms in parliament that have been sought demanded by the European Union.