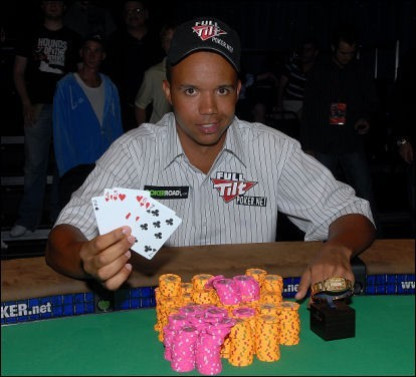 Britain's oldest casino has accused a top gambler of cheating after refusing to pay out £7.7m in winnings following suspicions that the man was "reading" cards.
Crockfords of Mayfair said that professional gambler Phil Ivey, known as the "Tiger Woods of poker", pulled off the scam in four sessions of punto banco over the August Bank Holiday weekend.
Ivey, 37, has taken legal action to demand that the casino pays out, in what has become one of the biggest legal battles in casino history. The casino said Ivey's winnings were invalid because they were "based upon illegal acts".
In documents lodged at the High Court, Crockfords claimed Ivey had been able to take advantage of the cards design.
It said that in perpetrating the scam, Ivey and a companion, identified as Cheung Sun, had "deprived the game of its essential character" of chance.
That constituted "cheating for the purposes of the Gambling Act 2005 and amounted to fraud at common law", the casino said.
In a defence statement, the casino's chief executive Peter Brooks said Ivey "purported to win a total of £7,711,485".
The casino, which was established in 1828, is owned by Malaysian gaming corporation Genting.
Ivey, from Las Vegas, insists he won the money fairly. He is said to have made bets ranged from £8,000 to £25,000 in two initial gaming sessions, which lasted approximately 53 minutes and 90 minutes.
But Ivey subsequently made bets averaging £46,000 to £150,000 in two subsequent lasting over 11 hours, once it is alleged that he had noticed the cards' design flaws.
The two only left when Ivey was told the cards would be changed, it is claimed.
The casino said Ivey and Sun had asked for an Asian dealer, and said Sun - who speaks Cantonese - sought to "establish a good rapport".
He then used the pretext that he was "superstitious" increase his gains.
Ivey initially said he intended to gamble for a week, but left the following day after saying his uncle had died suddenly.
Punto Banco Baccarat is played with six or eight decks of cards placed in what is called a dealing "shoe".
The goal is to get closest to nine -- the best first cards are a 7, 8 or 9 since a 10 or a picture card counts as zero.
The casino says the dealer inadvertently sorted the cards so that 7, 8 and 9 cards were distinguishable from others. Ivey then asked the cards be shuffled automatically by a machine, which meant the way the cards were arranged was not altered as the game progressed.
"The fact that I have issued a lawsuit in the face of what they are alleging says everything about how comfortable I am with my conduct and the validity of my win," Ivey said.
"Any allegations of wrongdoing by Crockfords are denied by me in the very strongest of terms."
Ivey enjoyed phenomenally success over recent years, winning a string of World Series of Poker Championships.