Donald Trump wowed his enthralled supporters in his official acceptance speech at the 2016 Republican National Convention on Friday 22 July, vowing to deliver a lawless US into prosperity and security, particularly by cracking down on immigrants and pushing "Americanism, not globalism", if he is elected president in the November elections.
He spoke of crime by illegal immigrants, creating jobs for struggling Americans by ditching trade deals and building a "great border wall" between the US and Mexico. He vowed to repeal what he labelled "disastrous" Obamacare.
Trump reiterated that all immigrants from any "compromised" country would be barred from entering the nation if he is elected president, and he vowed to "defeat the barbarians of Isis ... fast."
In a surprise U-turn from many convention leaders, Trump specifically recognised LGBTQ victims of terrorism in the Florida gay nightclub shooting as an olive branch to the community that failed to win such recognition in the Republican's ultra conservative platform manifesto, released on 18 July. He promised to protect the community from a "hateful foreign ideology."
When the audience applauded, Trump said in another nod to the community: "As a Republican it's so nice to hear you cheering."
Trump bashed the Obama administration — and Hillary Clinton's part within it — for "poverty and violence at home, death and destruction abroad," and he insisted that Bernie Sanders supporters would support him because he will work to bring jobs back to America. He painted Clinton as the queen of a "rigged system" and special interests.
The crowd was loud, often booing when Trump talked of Clinton or the national debt, wildly enthusiastic when he spoke of winning. At one point he crowed: "No one knows the system better than me," waiting for a tick to enjoy the laughter. "So I'm the one to fix it."
Trump delcared himself the "law and order candidate," and vowed to restore the nation to safety instantly, the very day he takes office if he is elected president."I have a message for all of you: The crime and violence that today afflicts our nation will soon and I mean very soon will come to an end. Beginning on 20 January 2017, safety will be restored," he promised.
He hammered away at America's climbing crime rates, mass shootings, and a world wracked by terrorism. He ticked off several crimes statistics on homicides and killings of police officers, before immediately veering into the number of illegal immigrants in the nation. "Nearly 180,000 illegal immigrants with criminal records, ordered deported from our country, are tonight roaming free to threaten peaceful citizens," he warned.
He excoriated "one such border-crosser" who made his way to Nebraska where he killed 21-year-old Sarah Root, was convicted of the crime but escaped prison and is now a fugitive.
"I've met Sarah's beautiful family. But to this administration, their amazing daughter was just one more American life that wasn't worth protecting," Trump said. "One more child to sacrifice on the altar of open borders."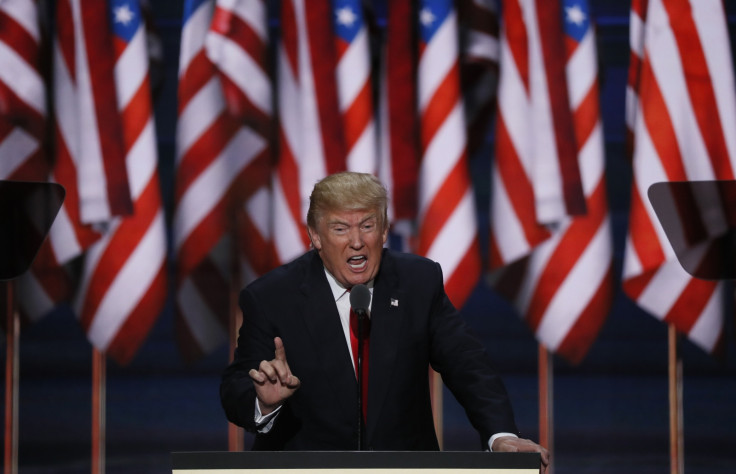 He later talked of hearing from "three parents whose children were killed by illegal immigrants ... They are just three brave representatives of many thousands. Of all my travels in this country, nothing has affected me more deeply than the time I have spent with the mothers and fathers who have lost their children to violence spilling across our border."
He vowed to "save countless more families from suffering the same awful fate" with a "great border wall to stop illegal immigration, to stop the gangs and the violence, and to stop the drugs from pouring into our communities."
Mexico wasn't the only nation to come under heavy criticism. Trump also lashed China for its "outrageous theft of intellectual property, along with their illegal product dumping, and their devastating currency manipulation."
Trump bashed the current administration for its spendthrift ways — increasing the national debt — and America's "one international humiliation after another ... [including] images of our sailors being forced to their knees by their Iranian captors at gunpoint."
That, he said, was just prior to the "signing of the Iran deal, which gave back to Iran $150 billion and gave us nothing – it will go down in history as one of the worst deals ever made. Another humiliation came when president Obama drew a red line in Syria — and the whole world knew it meant nothing."
He added: "Iran is on the path to nuclear weapons. Syria is engulfed in a civil war and a refugee crisis that now threatens the West. After 15years of wars in the Middle East, after trillions of dollars spent and thousands of lives lost, the situation is worse than it has ever been before.
"This is the legacy of Hillary Clinton: death, destruction, terrorism — and weakness."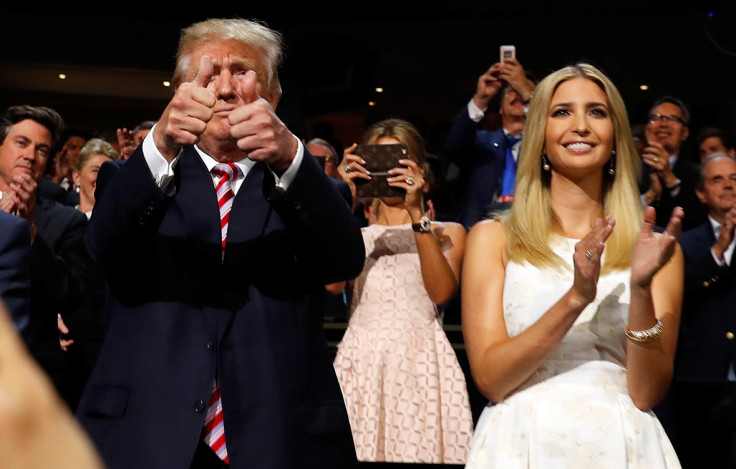 Trump touted his plan to "put America First. Americanism, not globalism, will be our credo," he vowed, which he said means "safe neighbourhoods, secure borders and protection from terrorism."
"I am your voice," he vowed, portraying himself as the super hero of the common man.
"I have embraced crying mothers who have lost their children because our politicians put their personal agendas before the national good. I have no patience for injustice, no tolerance for government incompetence, no sympathy for leaders who fail their citizens.
"When innocent people suffer, because our political system lacks the will, or the courage, or the basic decency to enforce our laws — or worse still, has sold out to some corporate lobbyist for cash — I am not able to look the other way," he said.
"I have joined the political arena so that the powerful can no longer beat up on people that cannot defend themselves."
He concluded: "America is a nation of believers, dreamers, and strivers that is being led by a group of censors, critics, and cynics ... We must choose to believe In America. History is watching us now. It's waiting to see if we will rise to the occasion, and if we will show the whole world that America is still free and independent and strong.
"I am asking for your support tonight so I can be your champions in the White House ... I'm with you, the American people.
"We will make America strong again, we will make America proud again, we will make America safe again, and we will make America great again."