A woman who accused Republican presidential nominee Donald Trump of attempted sexual assault in a 1997 lawsuit has spoken out publicly for the first time about her claims of how Trump allegedly cornered and groped her.
"He pushed me up against the wall, and had his hands all over me and tried to get up my dress again," Jill Harth, a makeup artist who met Trump at a business presentation, told the Guardian on Wednesday 20 July. "I had to say: 'What are you doing? Stop it.' It was a shocking thing."
She added: "If I hadn't pushed him away I'm sure he would have just went for it. He was aggressive and he has a sense of entitlement and he thinks everyone ... every woman ... is in love with him."
News of the lawsuit emerged during the Trump campaign earlier this year (2016), but until now Harth has refused media requests to discuss her experience with the real estate mogul.
Harth has finally decided to speak out after Trump dismissed her suit as "meritless," and his daughter Ivanka — who was 10 years old at the time of the alleged assault — said during the campaign that her father "isn't a groper," adding: "He has total respect for women."
Harth said she first met Trump at Trump Tower in New York in 1992, when she and her business and romantic partner George Houraney made a presentation seeking Trump's investment in a new beauty pageant, the American Dream Festival.
The meeting apparently began a string of unwanted sexual advances, according to Harth, that she said began with Trump leering at her, grilling her on her relationship with Houraney, groping her under a table — then cornering her her in one of his children's bedrooms the following year during the couple's visit to his Mar-a-Lago estate.
"It was a shocking thing to have him do this because he knew I was with George. And how could he be doing this when I'm there for business?" she asked.
At the time, Trump had recently divorced his first wife, Ivanka, who accused him of marital rape in a deposition during divorce proceeding before backtracking with her statement.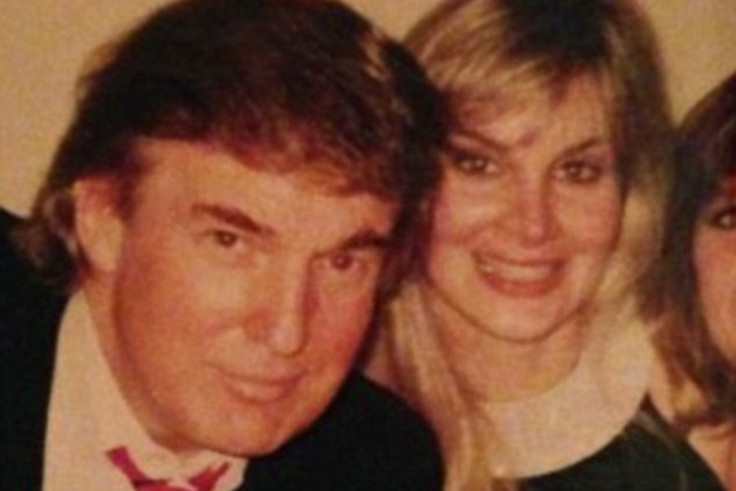 Harth said Trump called her constantly and tried to talk her into leaving Houraney. He boasted that he would be the "best lover you ever had ... you need to step it up to the big leagues,'" she quoted Trump in her interview with the Guardian.
"When you have sexual harassment it's always a very fine line ... whether you make a stink. I didn't want to embarrass him; I wanted to just deal with it and handle it," she said.
But Harth changed her mind four years later, while depositions were being taken in another lawsuit filed by Houraney against Trump, charging the billionaire with reneging on a contract by backing out of the American Dream Festival. As Trump, his attorney and Harth were sharing an elevator at the time, Trump turned to his lawyer and said: "See? I told she was a great piece of ass,'" Harth told LawNewz. That "set me off," she noted.
Harth filed the suit, then dropped it just weeks later after Trump settled Houraney's $5 million suit for a smaller, undisclosed sum. Harth said the money from Trump was also intended to settle her suit.
She said she was reluctant to revisit the accusations when they resurfaced during the campaign. "Honestly, it was painful for me to have to revisit [the time] again," she said. "It was stressful, it gave me anxiety, it definitely wounded my marriage."
After the New York Times unearthed the accusations in a story about Trump's relationship with women, the campaign reached out to Harth to retract her statement.
"His office — and I have it on my voicemails that he called, that they called — they asked me to recant everything when the New York Times article came out. They were trying to get me to say it never happened and I made it up. And I said I'm not doing that," she recalled.
Trump's office has denied that happened, while Trump himself has denied Harth's new comments, which first appeared in an interview in LawNewz. "If you look in the National Enquirer, there was a story in there that she was in love with me. The woman has real problems," Trump said. "It's ridiculous. I've never touched this woman."
The Trump campaign has forwarded several emails from Harth to both LawNewz and the Guardian in which Harth calls herself part of "Team Trump" and seeks work with the campaign. She said those communications occurred before Trump attacked her integrity — and she needed the work.
Michael Cohen, special counsel to Donald Trump, told the Guardian in an email: "It is disheartening that one has to dignify a response to the below absurd query. Mr. Trump denies each and every statement made by Ms. Harth as these 24-year-old allegations lack any merit or veracity."
Cohen also told the Guardian that Harth has "massive credibility issues." Meanwhile, Harth has hired attorney Lisa Bloom to demand that Trump — and Ivanka — retract their statements about her. "I'm angry that he is saying this never happened," said Harth.
"Jill is very clear that she is not a liar," Bloom said. "And her reputation is important to her. And her living a life free of this kind of stress is important to her."
In response, Harth said: "[Trump] didn't have to say anything. For once, he should have closed his mouth. He started this. What is happening now is of his own making, ok? I was quiet."