Texas Senator Ted Cruz may have lost the Republican nomination to Donald Trump, but on the third night of the Republican National Convention, on Wednesday 20 July, all talk was on him. Amid a chorus of boos from the state delegates, Cruz withheld his endorsement of Trump and called on voters to "vote your conscience" in November 2016 when the US decides its next President.
The conservative senator named the party's nominee only once, when he congratulated him for his nomination. He then delved into a speech about conservative values - which seemed to indicate his intention to run in the following presidential election instead of endorsing the current Republican nominee.
"I congratulate Donald Trump on winning the nomination last night," Cruz said. "And like each of you, I want to see the principles that our party believes prevail in November."
He continued: "To those listening, please, don't stay home in November. If you love your country, and love your children as much as I know you do, stand, and speak, and vote your conscience, vote for candidates up and down the ticket who you trust to defend our freedom and to be faithful to the Constitution."
As Cruz continued speaking, it became clear to the crowd that his endorsement for Trump would be less likely. Delegates from the New York delegation led chants of "We want Trump! We want Trump!" Previous cheers gave way to boos.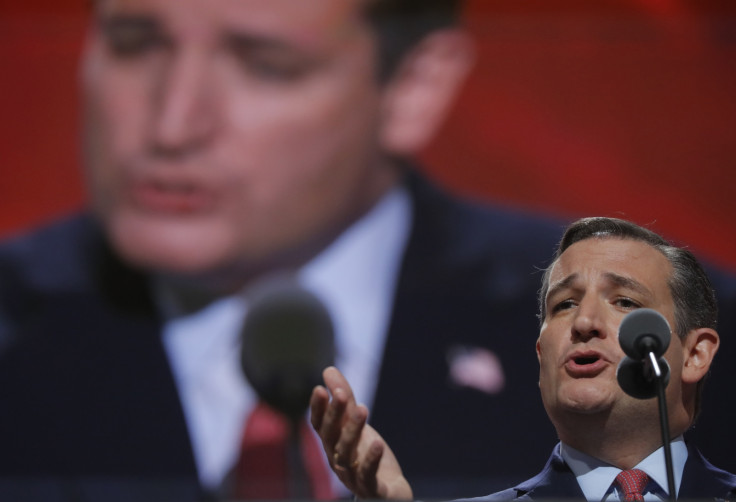 According to CNN, as the protestations intensified, Cruz's wife, Heidi Cruz, was escorted out by security after being taunted by Trump supporters. She later declined to answer questions from reporters. Former Virginia Attorney General Ken Cuccinelli, who helped escort Heidi Cruz out of the hall, told ABC News he did so because "it was volatile and the Trump folks were physically approaching and confrontationally yelling".
Despite the boos, Cruz wrapped up his speech, only to be upstaged by The Donald himself. Cameras quickly panned to Trump, who entered the Quicken Loans Arena on the opposite side to sit with his family ahead of his son Eric's address. Trump flashed a thumbs up and tense smile towards the crowd.
Cruz's departure from the arena was nothing short of awkward and tense, said CNN, and was reportedly approached by people who insulted him. But according to reports on Twitter, Cruz should have expected the unfavourable reaction. Conservative blogger Erick Erickson tweeted that Trump's campaign knew Cruz would not endorse the presidential hopeful and warned Cruz's team they would "orchestrate booing if he refused".