Benchmark oil futures ended higher this week as the violence in Egypt, strikes in Libya and the bombing of an oil pipeline raised fears of supply disruptions.
Brent Crude oil futures for delivery in October hovered at $110.40 a barrel. Brent ended 2% higher in the week ending 17 August, its highest weekly gain since the week of 5 July, Reuters data showed.
US crude oil futures for delivery in October hovered at $107.29. It ended 1.4% higher at the end of the week.
Brent crude oil futures for delivery in September hovered at $111.11 per barrel. US crude oil futures for September delivery hovered at $107.46.
Militants bombed a section of the 900-km-long Iraq-Turkey pipeline, stopping crude flowing from Iraq's Kirkuk oil fields to Turkey's Ceyhan port. Iraqi officials said that repairs would be completed in about 48 hours.
While strife-torn Egypt is not a major oil producer, market participants are worried that the civil unrest gripping the country could spread to other parts of the Middle East, which produces more than one-third of the world's oil.
In Libya, security guards at the country's major ports have been striking over pay for over a month now [Figure 1]. Protests have depressed oil production and exports.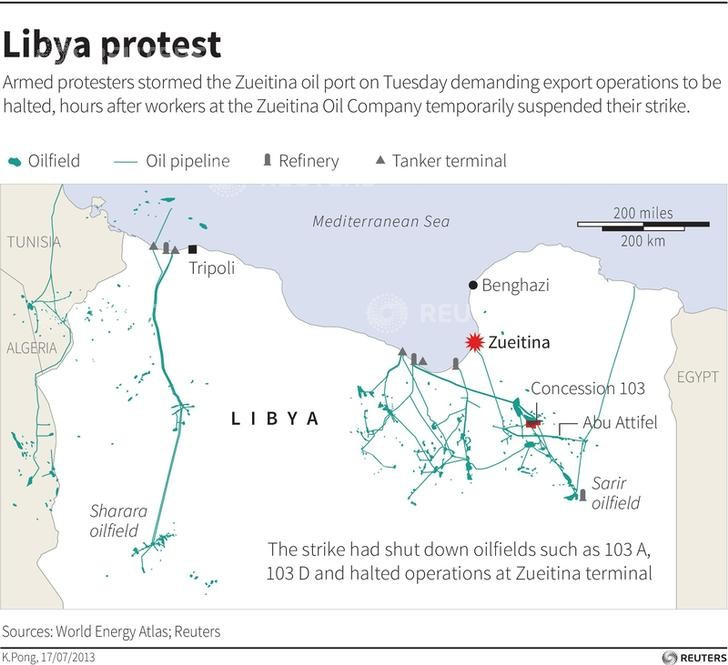 The North African country lost about $1.6bn in oil sales between 25 July and 15 August, Oil Minister Abdelbari al-Arusi said earlier. Production has dropped to some 650,000 barrels a day from 1.6 million barrels per day, representing over 1.5% of global oil output.
The Libyan government said it would use force and "bomb" any ship that tried to buy oil from the protesting guards.
Meanwhile, oil futures in the US shed early gains amid risk posed by supply disruptions from tropical storms in the Gulf of Mexico.
Oil companies operating in the region are evacuating staff working on offshore rigs as they brace for Tropical Storm Erin. The National Hurricane Center in Miami said that Erin was "strengthening".