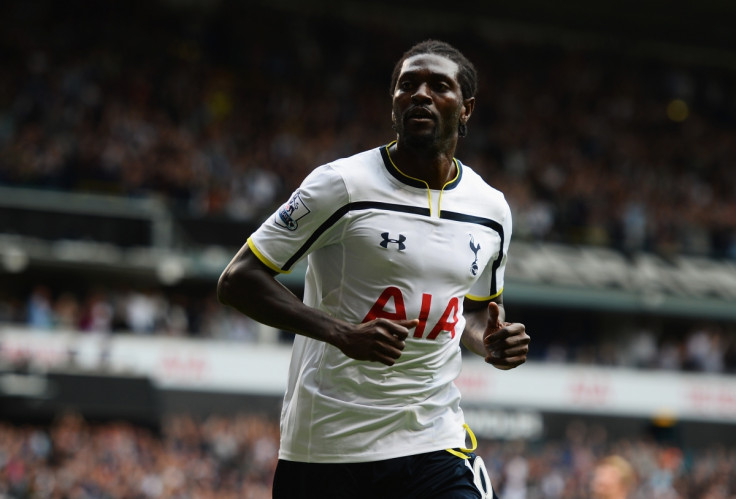 Crystal Palace have signed striker Emmanuel Adebayor on a free transfer. The 31-year-old star has joined the south London club until the end of the season.
The Togo international was available for free after being released by Tottenham Hotspur in September. Adebayor has admitted he is looking forward to playing first-team football once again and cannot wait to start training alongside his new teammates.
"I know they are a couple of points off the top five, I know it's going to be very difficult and there are a lot of big games to play, but let's get out there, have fun on the pitch, enjoy ourselves, that's me for you," he said, according to the Daily Mail.
"Everyone that knows Adebayor knows whether it's a hard moment or good moment he's always laughing. Let me laugh, let me enjoy myself and hopefully I can bring that into the dressing room and the team will follow, and we will get where we want to get to."
Palace's new striker has revealed he has been working hard on his fitness since leaving Tottenham last year. "Where I was born we did not have any gym equipment but we found a way to do our workout," he shared. "I have been working out, that's all I can tell you. Fitness wise – the first week will be hard because you're coming back to professionalism but apart from that that is what I've been doing.
"You can ask people at Arsenal and Manchester City, they will tell you the same thing. I have not been working out only when I joined Tottenham, I have been working out for long. That's why I have managed to do what I have in my career, whether I am playing for a team or not."
Adebayor hopes to start playing for the Palace first-team as soon as possible, but admitted he does not know how his fitness compares to that of his teammates.
"I played a lot of games in Africa. Don't get me wrong, they're not the same level, but I played as if I am playing in the Premier League. Maybe next week we will all know where I am but I had a good discussion with a manager and we'll know where my fitness level is at," the Palace star explained.