Cuba's Raul Castro Calls for Stronger Ties with US
Cuban and American officials holding talks to find common ground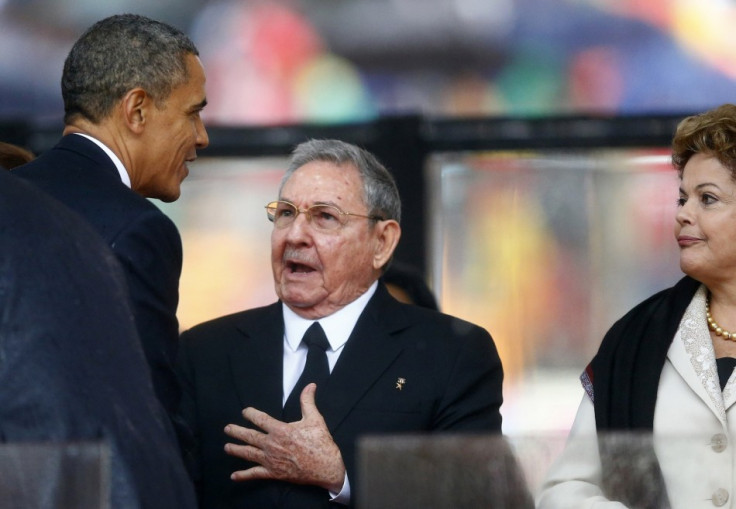 Cuban President Raul Castro has said his country wants to improve its relations with the United States, two weeks after his public handshake with President Barack Obama at Nelson Mandela's memorial service.
Castro revealed that officials from both countries have been holding talks for several months. There have been signs of a thaw on both sides of the famously frosty relationship between the two countries in recent months.
However, the Cuban leader, 82, made it clear that Washington should stop calling for regime change in Havana.
"We do not ask the US to change its political and social system, nor do we agree to negotiate over ours," Castro said.
"If we really want to make progress in bilateral relations, we have to learn to respect each other's differences and get used to living peacefully with them. Otherwise, no. We are ready to take another 55 years in the same situation," he said in an address to parliament.
Castro's formal handshake with Obama during Mandela's memorial ceremony in South Africa attracted international attention.
Cuba blames Washington's economic embargo for the country's poor economy. However, Castro conceded that reforms to the state-run economy are badly needed.
Warning local entrepreneurs who call for quicker growth, Castro said: "Those pressuring us to move faster are moving us towards failure. Every step we take must be accompanied by the establishment of a sense of order."
He added: "Inadequate controls by government institutions in the face of illegal activities by private businesspeople were not resolved in a timely fashion, creating an environment of impunity and stimulation the accelerated growth of activities that were never authorised for certain occupations."
Despite the encouraging signs, analysts see no likelihood of any immediate breakthrough in US-Cuba relations, as several thorny issues remain unresolved.
Castro, who took over from his brother Fidel Castro in 2006, has legalised private enterprise in dozens of areas of activity, but with tight controls.
© Copyright IBTimes 2023. All rights reserved.