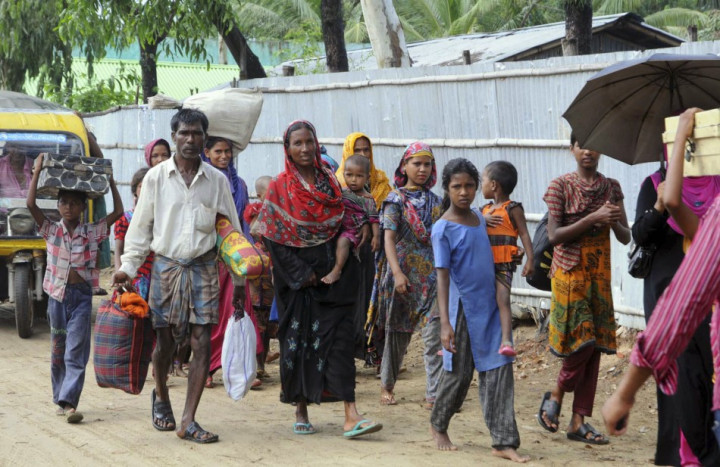 Cyclone Mahasen has forced more than a million people to evacuate their homes in Bangladesh and neighbouring Myanmar in preparation for the gale-force winds and heavy rain set to batter the countries in the coming hours.
The cyclone has already hit some villages in Bangladesh en route to wreaking havoc in the low-lying delta coast, but the full extent of the destruction was not immediately clear. The cyclone has covered more than 175 km in the last nine hours, say authorities.
"Mahasen will make landfall on Thursday evening, local time, bringing heavy rain to much of the region and gusty winds to southern Bangladesh and western Myanmar," officials at Accuweather.com weather forecasters said.
The UN has estimated that more than 4.1 million people are at risk. More than 700,000 people in Bangladesh have already been shifted to cyclone shelters while tens of thousands of people in Myanmar continue to flee.
"The evacuation campaign has begun across the coastal region . . . the people are moving towards safety," Abdul Wajed, director general of Bangladesh's Disaster Management Department, told reporters.
Bangladesh has issued a storm warning of seven, out of a maximum of 10.
"Many are declining to leave their homes, but we will eventually force them to move towards safety . . . the local union parishad chairmen were entrusted with the task to remove the people," said local official Upazila Nirbahi, adding that the people who are resisting are residing in one of the vulnerable areas.
Similarly, a large group of Rohingyas living in Myanmar have refused to leave their homes in low-lying areas. At least 70,000 Rohingya Muslims are thought to be living in temporary shelters in paddy fields which are prone to flooding caused by heavy rains. They have declined to heed the government's call for evacuation.
"In the Sittwe area, we have 13 IDP camps, 11 are Bengali camps - these refused to move. The Rakhine camps were moved to [Buddhist] monasteries in Sittwe town. The UN and NGOs... are trying to negotiate with the Bengalis and the government," a spokesperson for Arakan province, Hla Thein, told journalists.