People living in remote parts of Fiji are being urged to immediately bury loved ones who died in a powerful cyclone rather than waiting for post-mortems. Government spokesman Ewan Perrin said many remote islands and isolated communities still do not have electricity or refrigeration, so people should bury the dead in the interests of public health and safety. The official death toll from Cyclone Winston has reached 42 with at least four others still missing.
The cyclone tore through the Pacific Island chain with winds that reached 177mph, making it the strongest storm ever recorded in the Southern Hemisphere. A 10-month-old baby is among those missing and presumed dead from the massive cyclone. The boy's parents told a local television station they lost hold of him amid ferocious winds and floodwaters that rose to their necks.
Joseph Hing, a Fijian who works for Unicef, wrote about his experience traveling to hard-hit Koro Island, where at least 10 people have died. "As we sailed closer, we started to smell the dead carcasses of livestock that were floating past the ships." He said uplifted coral created a hazard on the sea's surface and that when they could see the island clearly "it looked like someone took a torch and just burned from one side to the other."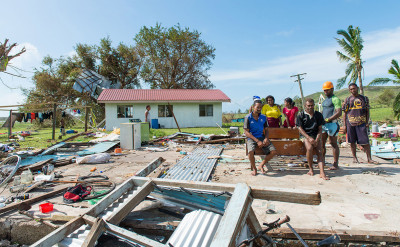 Perrin told AP 45,000 people are staying in emergency shelters after thousands of homes were damaged or destroyed. In some cases, he said, entire communities might be moved to safer ground when it comes time to rebuild.
Perrin said authorities have a good grasp now on the extent of the destruction from Cyclone Winston after getting aerial images from the Royal New Zealand Air Force. He said they hope to begin distributing 20 satellite phones soon to places still without communication links. He said that within a few days of flooding, mosquitoes start to breed so authorities are urging people not to leave standing water anywhere in order to prevent an increase in illnesses such as Zika and dengue fever.
International aid agencies said supplies were being delivered but the scale of the damage to infrastructure, particularly jetties and communications equipment, was making it hard to reach remote communities where help was most needed. Care Australia spokesman Dylan Quinnell said there had still been no contact with some remote communities, including one at Yasawa on the north-west coast of Fiji's largest island, Viti Levu, since the cyclone made landfall on Saturday. Others had been reached using radios dropped by the New Zealand air force.
Ahmad Sami, the acting head of the International Red Cross in the Pacific, said providing shelter and water remained immediate priorities. "Volunteers on the ground are saying the destruction is like nothing which they have ever seen before," Sami said. "Houses have collapsed, communications are still down, power transmission is down, wharves are still not accessible and roads and highways have been damaged."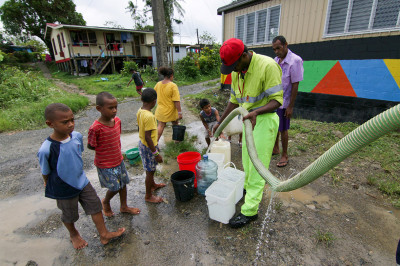 There are fears the death toll could rise when communication is established with the smaller islands where thousands of people live in tin or wooden shacks in low-lying areas. Fiji is made up of an archipelago of more than 300 islands, with a population of around 900,000.