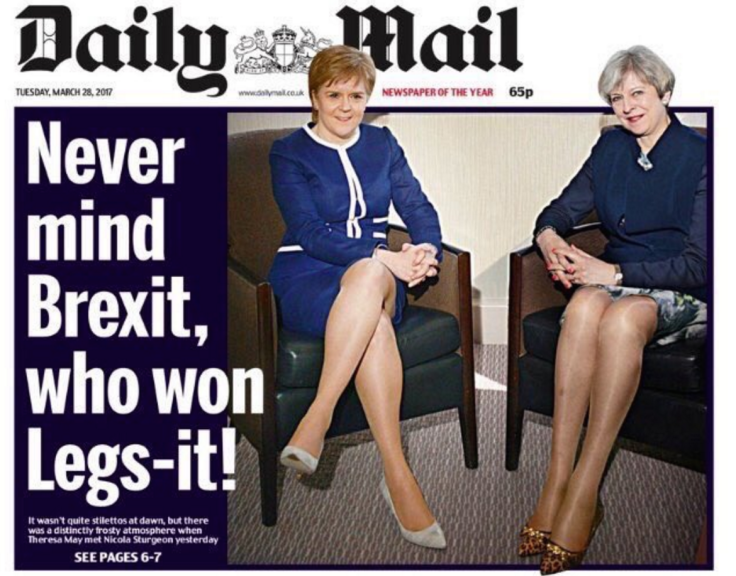 So astonishingly crass was the Daily Mail front page drawing its readers' attention to the lower limbs of our prime minister and the Scottish first minister that it is a toe-curling thought that the Mail Online is the most widely read news website in the world, and is to many a window into the UK's psyche.
The headline "Never mind Brexit, who won Legs-it!" was only the beginning. Inside the paper, the excruciating commentary continued: "Finest weapons at their command? Those pins!"
A female columnist, Sarah Vine, referred to Sturgeon's legs as "altogether more flirty, tantalisingly crossed... a direct attempt at seduction".
What was she thinking? Is this how she wishes to be judged by her male colleagues at Associated Newspapers? If no, why has she written this about two fellow professional women?
The response from the world of politics was commendably more rapid and robust than the reaction to the equally dreadful "Enemies of the People" headline concerning the Brexit judges. Ed Miliband tweeted "The 1950s called and asked for their headline back"; though I suspect that in the 1950s more courtesy was shown at least to women.
Harriet Harman says: "Moronic! We are in 2017!" Yvette Cooper said: "It's 2017. Two women's decision will determine if United Kingdom continues to exist. And front page news is their lower limbs. Obviously." There were similarly coruscating tweets from outraged members of the public concerning this headline.
There is, however, an important underlying point here. The newspaper's editor, Paul Dacre, and its high command, who have shown such astonishing bad judgment, are also those who have effectively set up and now exercise an alarming degree of control over the newspaper regulator, the Independent Press Standards Organisation (Ipso).
This means that less obvious departures by the Daily Mail from standards of morality and reason will go undetected because that title and those that run it know that they have very little to fear from a regulator whose strings are firmly in their hands.
However, the ruling elite at Associated Newspapers are now also moving to silence their critics by using what Dacre has described as the "power of suppression".
Dacre and his two senior colleagues, Peter Wright and Liz Hartley, are trying to use the libel laws which he has described as "draconian" to silence other journalists who are critical of the title and its dubious methodology for obtaining private information in the form of personal data about individuals in whom it has an interest.
You will find full details of this extraordinary development in the Daily Mail's determination to hold everyone to account but be accountable to nobody an article by Brian Cathcart, who is the director of Hacked Off.
---
Jonathan Coad is a specialist media lawyer and partner at Lewis Silkin LLP. He acts for both claimants and defendants. Follow : @jonathan_coad
---