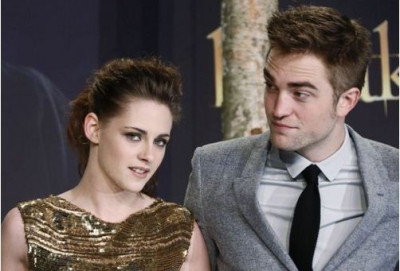 Twilight star Dakota fanning is apparently trying to patch up fellow co-stars Robert Pattinson and Kristen Stewart\'s relationship. She reportedly thinks that Pattinson should give Stewart a chance.
\"So much time has passed and Kristen\'s still hung up on Rob. Dakota\'s made it clear she thinks Rob should give Kristen another shot. Both of them have been so miserable since splitting that it\'s driving her crazy. It\'s a tragedy that they\'d walk away from something that was once so perfect,\" a source close to Fanning told Heat magazine.
Pattinson had ended his relationship with Stewart, his girlfriend of four years, when Stewart confessed to having an affair with Snow White and the Huntsman director Rupert Sanders.
Stewart later apologised and the couple briefly got back together, but split a second time after she got back in touch with Sanders. Now Fanning has stepped in to help the couple.
\"When Dakota told Kristen she was meeting up with Rob, Kristen meekly told her to say hi for her because Rob hasn\'t taken her calls since October. During lunch Dakota urged Rob to pick up the phone - even if it\'s just to talk as friends. It\'s gone on way to long and she wants them to patch things up,\" sources explained.
Apparently, Stewart is still said to be struggling to come to terms with the split. She reportedly feels that no one else will match up to Pattinson.
\"Kristen\'s tried hard to move on, but she has no interest in dating anyone, because she\'ll always hold a torch for Rob. She still loves him with all her heart. Rob\'s still on the fence, but admits there\'s something missing from his life - Dakota\'s determined to convince him that it\'s Kristen,\" the source concluded.