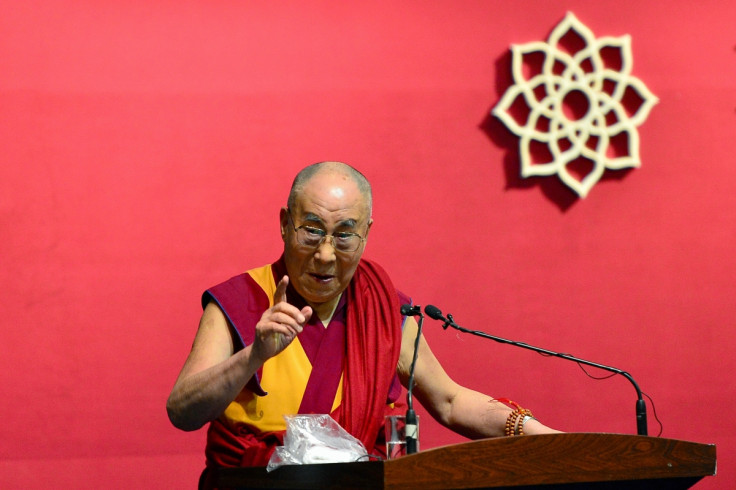 In honour of the Dalai Lama's 80th birthday, New Delhi is hosting a celebration on 4 January to mark the life and accomplishments of the spiritual leader. Despite the Dalai Lama's milestone birthday having passed in July 2014, his busy schedule has meant that a celebration in India was unable to take place until now.
The event is being held at the Oberoi Hotel in New Delhi, where the Dalai Lama is expected to give a talk to those present. Performances by sarod virtuosos musicians are also part of the birthday celebrations, with appearances from Amjad Ali Khan, Amaan Ali Khan and Ayaan Ali Khan.
The five-hour long event kicked off at 12pm IST (6.30am GMT). A live broadcast of the event prompted much excitement in the Indian subcontinent on the morning of the event, with the hashtag #CelebratingHisHoliness trending across the country as thousands anticipated the Dalai Lama's speech.
Prior to the birthday celebrations, the Indian Habitat Centre hosted the first-ever exhibition by the Dalai Lama's official photographer, Tenzin Choejor. The two-week photography exhibition showcased 40 portraits of His Holiness, depicting his travels around India over the last 10 years.
On the morning of 4 January, the Dalai Lama's official Twitter account posted images of the photography exhibition with the caption: "Strolling through the exclusive exhibition that highlights the journey of His Holiness." A separate tweet appeared to show the Dalai Lama arriving at the hotel for the event.
Watch the Dalai Lama's birthday celebration and speech here.